Video Artist M - W - Nb H/F
CDI
SAINT-MANDE, 94160 - Val de Marne
il y a 91 jours
---
Cette annonce est désactivée, il n'est donc plus possible d'y postuler.
Vue d'ensemble

Description de l'entreprise :

Ubisoft's 20, 000 team members, working across more than 30 countries around the world, are bound by a common mission to enrich players' lives with original and memorable gaming experiences. Their commitment and talent have brought to life many acclaimed franchises such as Assassin's Creed, Far Cry, Watch Dogs, Just Dance, Rainbow Six, and many more to come. Ubisoft is an equal opportunity employer that believes diverse backgrounds and perspectives are key to creating worlds where both players and teams can thrive and express themselves. If you are excited about solving game-changing challenges, cutting edge technologies and pushing the boundaries of entertainment, we invite you to join our journey and help us create the unknown.

Description du poste :

For more than 9 years, via its Ubisoft Mobile entity, Ubisoft has also shaped worlds on smartphones and tablets through its portfolio of mobile games.

At Ubisoft, you will have a chance to develop your skills and work alongside dedicated team members who are pioneers in their field, throughout the world. You will BE part of a warm and stimulating environment in which you can push back the boundaries of both the imagination and technology to create worlds that will inspire our players.

Do you want to join us on our adventure? Ubisoft is looking for a

Video Artist (M/W/NB)

Job description

The team :

You will BE joining the Mobile HQ to work on different unannounced AAA projects for major Ubisoft franchises.

Your role :

We are looking for a multi-talented Video Artist to join the Mobile HQ who has a real passion for creating video content, ranging from captures in-game, setting up sequences in the game engine, motion graphics and video editing. Focused on a few high profile projects, you will BE working hand in hand with the Product Managers & the team's art resources to define the tone & style of the public representation of our games.

Missions :
- Setting up Cinematic scenes using in-engine tools including camera animation, character setup and animation as well as prop dressing and lighting.
- Editing game trailers and other marketing and production-based materials.
- Supporting with recording of footage for videos; either shooting scenes in the virtual world of our games or filming on-location interviews with video equipment.
- Scoping your work to expectations and deliver organized projects.
- Designing motion graphics, title cards and transitions for videos.
- Taking ownership for certain projects and self-produce/direct when necessary.
- Creating strong relationships with external partners.


A portfolio is required to BE considered for this role.
Profil(s) recherché(s)
Qualifications :

- You are a creative person, one that thrives in honing your craft and finding ways to BE original.
- Flexibility and capability to adapt to change and find resourceful ways to solve problems.
- Easy and efficient communication and interaction with people.
- Ability to take initiatives and discuss concepts to create the best assets possible.
- Being familiar with different video game media and share our passion about video games and entertainment.
- Proven experience working with video production and/or post-production in video games/game-engine's.
- Experience in game trailer production and gameplay capturing.
- Fluency in Adobe After Effects and Premiere Pro.
- Experience with videography and cinematography.
- Knowledge of a Game Engine such as Blender, Unity, Unreal or similar.
- Knowledge of color grading, sound editing/mixing, 3D or Visual Effects and/or still photography.

Nice to have :
- Experience in Animation and/or Motion Capture is a plus.
- Experience in working in creative studios is a plus.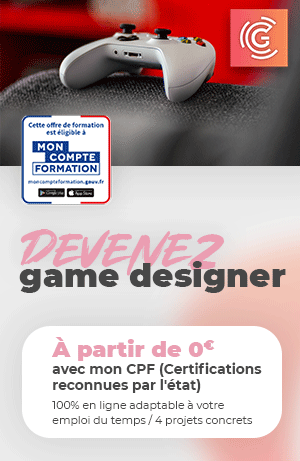 Date de publication initiale : 01/07/2022
---