UX/UI Game Designer (M/F)
CDI
Hô Chi Minh-Ville - Hô Chi Minh-Ville, Hô Chi Minh, Vietnam
il y a 1236 jours
---
Cette annonce est désactivée, il n'est donc plus possible d'y postuler.
Vue d'ensemble
One of our partner, a leading global publisher of digital and social games, is looking for talented
UI/UX Specialists
for their Vietnamese Branch.
Would a career opportunity in Vietnam sound appealing to you?
MISSION:
As a UI/UX Specialist, you will have the responsibility to provide high quality interface assets for assigned projects required, work closely with Studio Lead Artist and Art team to improve the quality and last but not least, train, coach and mentor Junior.
Profil(s) recherché(s)
Academic background in Design, Arts or equivalent;
Advanced level in Photoshop, great understanding about graphic design, balance, flow, and composition, user experience and user interface;
Great understanding of composition, color, shading, lighting, post-processing;
Advanced level in graphic design, iconography and illustration;
Ability to follow and adapt to different stylistic guidelines;
Ability to address artistic or technical issues with proper solutions and directions;
Video game experience: motivated and passionate about video games, good understanding of game development production processes;
Good English oral communication skill: able to read English emails and reply;
Good sense of initiative, creative mindset;
Effective organizational skills; ability to accurately estimate time to complete tasks and manage priorities to meet deadlines, even under high pressure;
trong communication, negotiation, conflict resolution and decision-making;
Good teamwork, and ability to maintain positive and collaborative relationship with your colleagues;
Willingness to share ideas and experiences with other senior artists;
Commitment and sense of responsibility, open mind, self-discipline.
Informations complémentaires
TALENT IS BORDERLESS… COOPTALIS BREAKS DOWN BORDERS FOR YOU!
Cooptalis travels around the world to bring together companies searching for rare talents who want to develop their careers beyond their current borders.
As major player in international mobility and recruitment, COOPTALIS has already enabled more than 500 employees to carry out their expatriation project.
You are (or you know someone who is) a super GEEK who swears by video games, wants to play all day at work, and who happens to be a Senior Game Designer, UI/UX Designer or Game Economy Designer? You are the one we are looking for!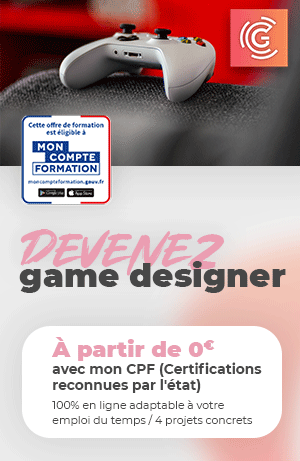 Date de publication initiale : 07/06/2018
---