User Researcher / Playtest Manager
---
Cette annonce est désactivée, il n'est donc plus possible d'y postuler.
Vue d'ensemble
User Researcher / Playtest Manager in Paris at Quantic Dream.
Within the context of our very ambitious upcoming productions and for our Publishing activity, QUANTIC DREAM wishes to recruit a User Researcher/Playtest Manager in charge of organizing user tests, workshops and studies on all the games developed both internally and externally.
Reporting to the Publishing Producer, you will be responsible for planning and implementing user tests, whether these are carried out internally or externally. You will be a guarantor of the quality, relevance, impact and correct organization of these tests in order to support the games' development teams and senior management, and provide them with information.
Your tasks will be as follows:
Setting up test protocols - Assisting the production teams in translating their needs/questions/research strategies into operational tests
Having good knowledge of the production's design and challenges in order to implement relevant tests.
Supporting the teams involved in identifying and reframing their needs (refining questions, relevance and feasibility study).
Organization and monitoring of tests - responsibility for holding regular test sessions both internally and externally:
Setting up test methodologies and observing customized sessions.
Identifying and researching (sourcing) external service-providers based on the needs of the tests.
Organizing and overseeing operational implementation of the test sessions internally (suitable audiences for the tests, hardware etc.).
Supporting and coordinating external service-providers within the context of user tests.
Managing the user test plan for the medium to long term.
Analysis - responsible for the production of relevant and impactful user research:
Providing high-quality design/UX analyses and feeding them back to the production teams.
Monitoring the designs and analyses of various different projects over the long term.
Profil(s) recherché(s)
Required skills
You will have a minimum of 5 years' experience in a similar position in the video games industry, ideally on AAA projects.
Based on your extensive experience, you will contribute state-of-the-art knowledge of User Research techniques (eye tracking, emotion tracking etc.)
You take a proactive approach and are self-motivated.
You are capable of setting up processes and structuring the activities of a construction team.
You demonstrate a meticulous and analytical approach.
You are a good listener, and able to understand and translate needs, particularly in relation to creative teams.
Your creativity and practical approach help you to find and apply the best solutions to solve problems.
You have a positive professional attitude and communicate effectively with the other teams; you have interpersonal skills enabling you to develop constructive relationships with your contacts.
You enjoy working within an international context.
Fluent English (verbal and written) is essential.
We offer you the opportunity to work with experienced and passionate people, in a creative and innovative environment.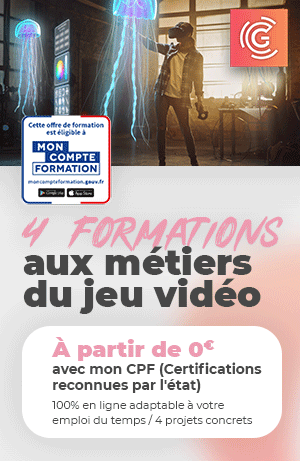 Date de publication initiale : 03/06/2022
---