Unity3D / C# Developer
CDI
Levallois-Perret - 92300 Levallois-Perret, France
il y a 139 jours
---
Cette annonce est désactivée, il n'est donc plus possible d'y postuler.
Vue d'ensemble
Are you into Art, Metaverse or Gaming ?
We work on a website that integrates high-quality metaverse games for web and mobile.
The goal is to create a new way to visit and interact with art galleries by building a very immersive experience !
To do so, we are looking for a Unity3D Developer working remotely and on-site (1 day per week onsite) with our team.

As a Unity3D Developer, you will be responsible for building gameplay systems and features on multiple platforms.
You will report to the VP Product who will provide game scenario and design directions and you will work closely with the CTO, in order to make sure games are smoothly integrated into our website.

To be explicit, we are not looking for a Designer, but a Developer who masters metaverse features of Unity.

Your role on a daily basis:
developing VR metaverse games
integrating all kinds of assets (materials, textures, image, sound, video...) into Unity scenes
fixing design of assets using different 3D softwares: Blender, Maya...
designing sets and light in Unity, navigation...
creating multiplayer games: allowing the user to modify the scene, handle
avatars, real-time interactions between players
building for all platforms: Mac, WebGL, iOS, android...
optimizing performance and responsiveness
Profil(s) recherché(s)
As you'll be the first Developer (permanent position) in the team, we are expecting some seniority for that role :
at least one fully shipped product,
deep knowledge of Unity
strong knowledge of Blender, Maya
actual know-how regarding metaverse development in Unity
deep knowledge of C#
knowledge regarding Unity game website integration
ability to work independently and to be self-directing
demonstrable ability to discover and fix errors in code
strong organizational skills with a good sense of design
Informations complémentaires
What we offer :
Salary between 50 000€ - 70 000€ gross / year (depending on your tech skills)
Equity (BSPCE)
Healthcare insurance (Swisslife)
Remote friendly policy (1 day per week onsite would be nice)
Working in an early-stage startup connected to the Art world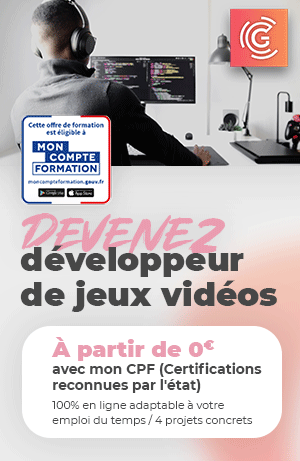 Date de publication initiale : 28/09/2022
---