Ui Designer - Editorial Visual Designer M - W - Nb H/F
CDI
SAINT-MANDE, 94160
il y a 335 jours
---
Cette annonce est désactivée, il n'est donc plus possible d'y postuler.
Vue d'ensemble

Description de l'entreprise :

Ubisoft's 20, 000 team members, working across more than 30 countries around the world, are bound by a common mission to enrich players' lives with original and memorable gaming experiences. Their commitment and talent have brought to life many acclaimed franchises such as Assassin's Creed, Far Cry, Watch Dogs, Just Dance, Rainbow Six, and many more to come. Ubisoft is an equal opportunity employer that believes diverse backgrounds and perspectives are key to creating worlds where both players and teams can thrive and express themselves. If you are excited about solving game-changing challenges, cutting edge technologies and pushing the boundaries of entertainment, we invite you to join our journey and help us create the unknown.

Description du poste :

For more than 9 years, via its Ubisoft Mobile entity, Ubisoft has also shaped worlds on smartphones and tablets through its portfolio of mobile games.

At Ubisoft, you will have a chance to develop your skills and work alongside dedicated team members who are pioneers in their field, throughout the world. You will BE part of a warm and stimulating environment in which you can push back the boundaries of both the imagination and technology to create worlds that will inspire our players.

Do you want to join us on our adventure? Ubisoft is looking for a

UI designer / Editorial Visual Designer (M/W/NB)

Job description

Your role :

As an Editorial Visual Designer/UI Designer your core mission is to support Ubisoft Mobile studios defining :
- Visual system of the games' interface (iconography, fonts, imagery, etc.).
- Gameplay elements (HUD, signs & feedback).
- Game visual universe.

In close collaboration with the rest of the Editorial team, you are giving soul to (greyscale) wireframes by playing with colors, composition, typography and animation. You will also participate in finding the best information hierarchy to suit players' needs & business goals and transversal activities that imply visual design work.

Missions :

As part of the Editorial HQ team, you will have a supporting role to the different Ubisoft Mobile studios. You will help them :
- Solve visual design challenges both for in-and-out gameplay elements.
- Communicate visual design concepts through various artefacts such as mood boards, high-fidelity screen designs or interactive prototypes.
- Create clear and attractive assets both in-and-out the gameplay such as buttons, icons, visual interactions, signs and feedbacks, offers layout, etc.
- Conduct visual adjustments based on changing requirements and player feedback.
- Promote the continuous use of feedback to drive and polish features to a high-quality state.
- Run visual reviews on our live games to keep improve them.
- BE on top of the latest visual trends via benchmarks or via the creation of a visual database of games' elements.



Profil(s) recherché(s)
Qualifications :

- You have experience working as UI/Visual Designer (application outside videogames will also BE considered).
- Being able to communicate both in French and English.
- University or technical degree in the related field.
- Strong design, drawing, color, composition, and conceptual ideation capacities.
- Quick sketching methods and the ability to communicate visually.
- Excellent knowledge of visual softwares (Adobe Suite, Figma, ProtoPie, etc.).
- An online portfolio demonstrating solid graphic design knowledge and flexibility to work on different visual universes we will only contact candidates who have portfolio available online.
- Bonus points if you understand UX best practices and motion abilities.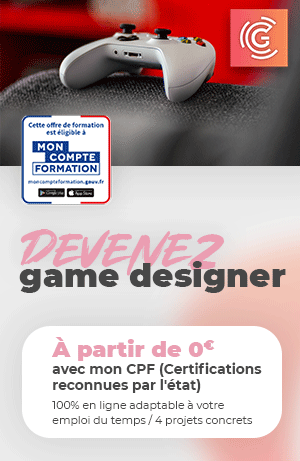 Date de publication initiale : 02/05/2022
---