Technical Director Level Designer - Nb H/F
CDI
BORDEAUX, 33800
il y a 199 jours
---
Cette annonce est désactivée, il n'est donc plus possible d'y postuler.
Vue d'ensemble

Description de l'entreprise :

Ubisoft's 20, 000 team members, working across more than 40 locations around the world, are bound by a common mission to enrich players' lives with original and memorable gaming experiences. Their dedication and talent has brought to life many acclaimed franchises such as Assassin's Creed, Far Cry, Watch Dogs, Just Dance, Rainbow Six, and many more to come. Ubisoft is an equal opportunity employer that believes diverse backgrounds and perspectives are key to creating worlds where both players and teams can thrive and express themselves. If you are excited about solving game-changing challenges, cutting edge technologies and pushing the boundaries of entertainment, we invite you to join our journey and help us create the unknown.

Ubisoft Bordeaux

Ubisoft Bordeaux works with passion on the biggest AAA's and aims to offer the best gaming experiences for our players. Today, our studio counts more than 330 talents from 15 different nationalities and is working on licenses such as Assassin's Creed, Rainbow Six, Beyond Good & Evil 2, but also on mobile games, as well as exciting technologies with Harbour team, our Ubisoft's online service group, and the Streaming team.

Description du poste :

Responsibilities
- Apply technical guidelines for level and game design (best practices).
- Master the procedure for creating worlds, progression systems and 3Cs.
- Assist the lead level and game designers as technical coach.
- Provide technical coaching for designers.
- Propose improvements on the different tools and pipelines.
- Ensure cleanliness and stability of the data.
- Quickly find issues using debugging tools.





Profil(s) recherché(s)
Qualifications :

- Relevant experience in working on AAA titles.
- Excellent technical knowledge of editors and good understanding of script languages.
- Excellent knowledge and understanding of the video game development process.
- Ability to work under pressure with pre-established constraints.
- Leadership skills and the ability to work within a team.
- Excellent organization skills and ability to structure one's own work and that of the team.
- Software and editor skills (perfect command of Unreal tools an asset, along with advanced knowledge of 3Dmax).
- Highly creative.
- A passion for video games as well as significant in-depth knowledge of the field.
Informations complémentaires
Skills and competencies show up in different forms and can BE based on different experiences, that's why we strongly encourage you to apply even though you may not have all the requirements listed above.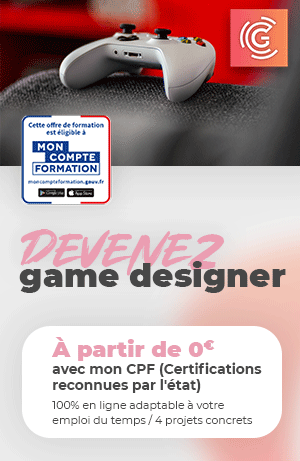 Date de publication initiale : 23/08/2022
---