---
Cette annonce est désactivée, il n'est donc plus possible d'y postuler.
Vue d'ensemble
Darewise Entertainment is an upcoming independent games studio with one goal: to revolutionize online games. Based in Paris and led by the creative vision of Viktor Antonov (Valve, Bethesda) and Randy Smith (Looking Glass, EA), we combine international experience and disruptive creativity to deliver the games of tomorrow. We focus on building large scale virtual worlds, where players write their own stories and take fate into their own hands. We create the impossible.
If you dream of pushing the boundaries of online games, then join our international team!
We are looking for an enthusiastic, talented and versatile Technical Artist! If you want to make a difference and work on products that matter to players, you belong with us. Our entrepreneurial spirit will allow you to express and grow together with us, in the mission to serve our players with the best possible games.

As a Darewise Technical Artist, you will be enhancing the team while crafting tools, shaders, lighting and VFX for our unique and technically challenging new project.

Darewise is committed to building a culturally diverse team and strongly encourages applications from female and minority candidates.
Profil(s) recherché(s)
Qualifications:
- Extensive console or PC game development experience on products demonstrating a high visual bar, with one or more shipped titles in a technical art role.
- Passion for cultivating astounding, high-quality visual results from tough engine and design constraints.
- A "Force-Multiplier" for the Art Team.
- Technical experience across multiple art disciplines including real-time advanced lighting, particle systems, VFX, animation, rigging, and implementation.
- High level of proficiency with 2D and 3D art development tools including, but not limited to: 3ds Max, ZBrush, Maya, Houdini, Substance Designer/Painter, etc.
- Ability to articulate complex visual and technical ideas with clarity and conviction.
- Positive, collaborative and professional attitude while working under multiple deadlines.
- Strong English and communication skills, comfortable working with non-technical people and remote teams.
- Based in or willing to relocate to Paris, France.
Responsibilities:
- Create unique, dynamic, and performant VFX systems and visual features using the Unreal Engine and other tools, as directed.
- Identify and act on opportunities to enhance the visual quality of the project at every stage.
- Help shape, develop and evolve Darewise's art team by creating efficient tools, participating in hiring processes, pipeline creation, and engagement with the the broader game development community.
- Participate in iterative development and critical feedback loop with entire game development team, including regular gameplay tests.
Informations complémentaires
Benefits:
- Competitive salary and profit sharing opportunities (stock options, bonuses...).
- Unlimited paid holiday and flexible working hours.
- Relocation package including EU working visa assistance if necessary.
- Benefits package including private health insurance, pension and public transport.
- Unlimited budget for your workspace hardware, software and tools.
- Monthly free games to be up to date with all the latest release.
- Fully stocked fridges and weekly lunches.
- Working within a small, highly motivated team who are passionate to succeed.
- Living in Paris, one of the most iconic and exciting cities in the world.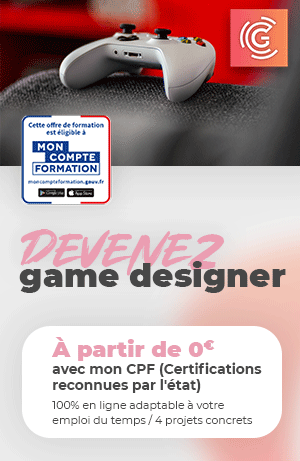 Date de publication initiale : 03/05/2018
---
Ces annonces peuvent vous intéresser !