Vue d'ensemble
As we expand our portfolio of free-to-play apps, we're looking for experienced and ambitious VFX ARTISTS to create captivating real-time effects that delight our players, and reward their deeper engagement, while clearly communicating in-game information. In collaboration with the Creative and Design Teams, you will design and implement effects for our games, and provide feedback to the Design Team, Art Team, and other VFX Artists with a goal to constantly raise our quality bar.
As a self-starting professional, you will take pride in delivering highly performant solutions and enjoy pushing your technical skills to new limits, with the support of your Technical Art and Engineering colleagues. You'll have a passion for play, a healthy respect for our players, and you won't take no for an answer when it comes to making our games better.
Needless to say, you will have experience working with 3D packages and in-game FX systems to create a wide range of VFX, as well as a general understanding of good game play communication. A solid grasp of the principles of motion, anticipation, dynamics, follow-through, lighting, and other facets of animation is essential, as well as skill in creating the textures and geometry needed for stylized VFX.

Missions:
o Design and create amazing and highly performant visual effects for Mobile games using Photoshop, Maya, and in-game FX systems including Unity, Timeline Effects and other tools
Execute concept and production designs, working side-by-side with the rest of the Technical and Creative team
o Work closely with Producers and Product Owners to ensure that projects meet the PLAYSTUDIOS standard of excellence, satisfy marketing goals, and meet publishing schedules
o Collaborate and communicate with the Senior VFX Artist, Chief Creative Officer and Producer(s) for the creation of concepts, presentation materials, project style-guides, and final refinements of projects through the production cycle
o Develop and formatting elements for engineers and other developers
o Designing and maintaining clear naming conventions and organization for files, folder systems and other hand-off vehicles, and archiving assets and source files
o Managing asset file set up, optimization and troubleshooting performance in game
o Mentor junior VFX Artists; this includes being a source of knowledge, and the ability to convey that knowledge to your fellow VFX artists in a way that can be easily understood
o Contribute to and drive R&D with Engineers, Technical Artists and CG colleagues to maximize PLAYSTUDIOS' technology potential, including exploring, testing and making recommendations for new production tools, pipelines and best-practices
Profil(s) recherché(s)
Skills:
o 3+ years experience creating visual effects for Mobile games using Adobe Creative Suite, Maya, 3DS Max, After-Effects, and in-game VFX systems including Unity, Timeline Effects and other tools
o A solid knowledge of the principles of motion, anticipation, dynamics, follow-through, lighting, and other facets of animation, and previous work with real time 3D particle system (Unity preferred), physics, ribbons, shaders, solid knowledge of rendering engines
o Skill in creating from scratch the textures and geometry needed for stylized VFX
o Solid game design awareness and an exceptional game design collaborator
o Enjoy communicating and presenting your work, taking direction and feedback from stakeholders, staying organized, and managing your time effectively in a fast-paced environment
o You will have a well-organized portfolio that shows a compelling visual style, polished technical implementation and an understanding of the casual game space and narrow bandwidth environments
o A team player and mentor, you're proactive in finding creative and effective solutions to day-to-day problem solving and creative solutions that inspire the team
o As a social game enthusiast, you're passionate about visual effects and driven to apply your encyclopedic knowledge of effects and the tools that create them to draw our players into a net of rewarding and exhilarating eye-candy, and help guide them through each on-screen puzzle
> least but last: a correct vocal english level. We can help you to improve if you re hired.
Informations complémentaires
Advantages working with Playstudios:
fully remote
no more than 40h/week
easy to manage your working hours as long as you can keep a good overlap
Paid national days off + vacations
work with a high level team on well known brands !
Please, come to the interview with your monthly/yearly rate expectation !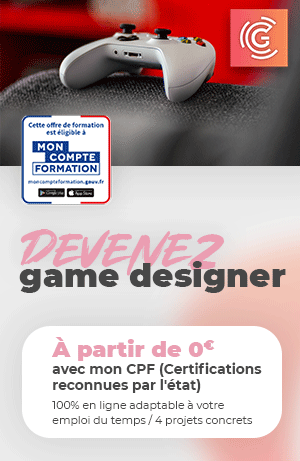 Date de publication initiale : 24/04/2022
---