Senior Unity Technical Developer (iOS/Android)
CDI
Paris - Île-de-France, France
il y a 709 jours
---
Cette annonce est désactivée, il n'est donc plus possible d'y postuler.
Vue d'ensemble
Voodoo is a Tech company that creates and publishes hyper-casual and casual mobile games for a wide audience. It is the worldwide leader in the mobile game market through snackable, innovative and creative content combining data and new technologies.
The company raised $200M in 2018 and we have been certified a Great Place to Work France 2020. More recently, Tencent has become a minority stakeholder in Voodoo, with a role in framing our strategy to dominate the Asia Pacific region.
#1 worldwide in mobile game downloads, and regularly at the top of the App Store rankings, our games have about 300 million monthly active users and more than 4.4 billion downloads since our creation. Voodoo is one of the most impressive examples of hypergrowth in the ecosystem, having multiplied its turnover by 5 over the past few years.
With more than 300 employees around the world, we would love you to apply to join an ambitious, innovative and international company!
What is Voodoo's Culture all about?
We recruit passionate and creative profiles, who combine data and new technologies to disrupt the mobile market. Driven by a test-and-learn culture, we welcome wonderfully talented people wishing to undertake and manage unique, ambitious and challenging projects. Our goal is to foster excellence, both individual and communal, which to us means solving problems by breaking the rules, learning fast and autonomously and delivering with the best execution.
Before applying, you need to know that the company's Culture is very important to us. Our employees evolve within an environment designed to be a centre for fulfillment. Daily life at Voodoo is characterised by numerous events throughout the year that allow you to feel fully integrated into the team and get involved in creative and innovative projects. Among them: onboarding programs, our annual global summit, other company-wide events, hackathons, game jams, wellness events and more.
What will be your main challenges?
We are looking for a senior developer with an extensive Unity experience to lead the technological front of the Voodoo client application development. In this role, you will analyze, experiment, identify and deploy solutions for client optimization across our portfolio.
Ultimately, you will be working with both internal teams and external studios to create better games and lead the improvement of the quality of our games, which reach hundreds of millions of players every month!
- Coach internal and external studios on technical optimization
- Participating in building a game project from scratch
- Designing and building complex game features
- Identifying and fixing code errors and game bottlenecks
- Testing game functionality along with the QA team
- Ensuring products conform to high industry standards
- Designing and building game patches and upgrades
- Being the stakeholder and participate in building tools for optimization to serve developers
- Collaborate with engineers, product managers, creative artists to identify short-term and long-term tasks
- Help QA/Automation team with bug analysis, reproduction and tooling
By joining this team, you will have a strong impact on the business and a unique opportunity to reach hundreds of millions of users!
What is your team about?
Based on our principles and values, you will have the chance to work with a variety of experts: product managers, monetization managers, data analysts...and still more!
We harness data and creativity through innovation on the Voodoo gaming portfolio. We gain better understanding of our player base in order to keep on offering the best entertainment value out there!
We bring new ideas to life and develop existing concepts to enrich our already diversified gaming portfolio. We make our games even more fun, engaging, long-lasting and entertaining! Pair that with top-of-the-line A/B testing capabilities and you've got yourself a great environment for learning and developing Casual and Hyper Casual games. Join us and be part of a small, international and passionate team!
What do we offer for this role?
Competitive salary (of course) ⧫ Bonus ⧫ Free shares ⧫ Remote days⧫ Lunch card ⧫ Wellness activities ⧫ Hackathon ⧫ Seminars ⧫ Global Summit
The salary will depend on the experience and skills a candidate brings to the position in line with the levels outlined in the Voodoo Career Path.
We are offering all Voodoo members of staff a flexible vacation policy, allowing us to take as many paid days off as we need as long as the work is done and objectives are complete.
What is our recruitment process?
Our recruitment process typically includes a call with our recruitment team, as well as interviews with your future manager and team members focusing on job fit. We will focus on your soft skills through values fit interview that will determine if your values are compatible with ours. Lastly, our test and case studies culture is an integral part of the recruitment process and will feature at some point in your process.
Does this sound like it was written with you in mind? Excellent! Put in your application and let's discuss the possibilities!
Profil(s) recherché(s)
What do we expect?
- A Bachelor's degree in Computer Science/Computer Engineering
- At least 5 years experience as Unity developer In-depth knowledge of Unity, best practices and optimization tools (Profiler, Memory profilers...)
- Extensive experience with iOS and Android game development, including good knowledge of platform-specific tools
- Very strong C# design and architecture experience in OOP languages
- Experience with memory usage tuning and space optimization
- Good communication and presentation skills to empower knowledge sharing
- Good troubleshooting skills
- Excellent attention to detail
- Highly analytical and data oriented
- Follows new technology trends and loves learning new things
- Experience with client/server integration (an asset)
- Experience in native development for iOS and Android (an asset)
- Experience in SDK integration, preferably Ads (an asset)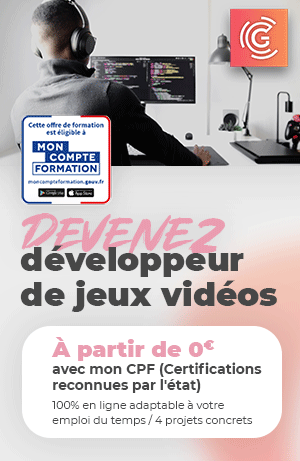 Date de publication initiale : 20/01/2021
---