Senior Ui Artist - Green Panda Games M - W - Nb H/F
CDI
PARIS, 75000 - Paris
il y a 221 jours
---
Cette annonce est désactivée, il n'est donc plus possible d'y postuler.
Vue d'ensemble

Description de l'entreprise :

Ubisoft teams are driven by their desire to enrich players' lives through original, memorable entertainment experiences. These teams bring to life whole new worlds veritable playing fields in which players can freely express their imagination, leading to moments of surprise, fun and adventure, as well as fostering learning and discovery.
For more than 7years, via its Ubisoft Mobile entity, Ubisoft has also shaped worlds on smartphones and tablets via its portfolio of mobile games.

Green Panda Games is a vibrant and fast-growing mobile gaming start-up, part of the Ubisoft group. We are a leading mobile games publisher with games downloaded more than 250 million times in more than 150 countries !

We primarily create and publish idle games, but also games from diverse categories, ranging from hyper-casual to casual, constantly deepening our games' mechanics and our portfolio. We are looking to further grow our internal creation and publishing businesses at a rapid pace.

We are motivated, ambitious and passionate individuals in high-performing teams, who share the aim to become the best mobile gaming publisher in the industry. We need your help to achieve this !

And now we are looking for an experienced and dedicated Senior UI Artist to join our team.

Description du poste :

You will have an important role to strengthen our Art team and will BE in charge of the following responsibilities :
Create and translate wireframes into high quality UI mockups and prototypes, attentive to details. You will BE responsible for producing final UI assets of our games in close collaboration with other UI artists
Understand the Game Design documents to design the intended user experience
Design, create and improve UI elements suited for our mobile games
Use your experience to improve, challenge our process and organization (design system, export, optimization, UX etc.)
Understand design priorities, shortcoming and find creative solution to keep the game visually appealing, intuitive and effective
Assist the Art Lead in task organization, project coordination and follow-up
Support & collaboration with all production teams (game design, developers, marketing...)



Profil(s) recherché(s)
Qualifications :

Minimum 4 years of experience in UI design; relevant experience in video games / mobile company is desirable
Strong portfolio demonstrating UI design skills,
Strong skills in UI design software (Sketch/Adobe XD or Figma)
Proficient in graphic & editing software (Adobe suite)
You are able and interested to work on different projects
Superior eye for composition, color theory, artistic sensitivity, attention to detail,
Strong knowledge and interest for UX, video game market, mobile interfaces and accessibility.
Good communication, organization and problem solving skills
Fluent in English
Experience in UI animation is a plus
-.
Knowledge of Unity is a plus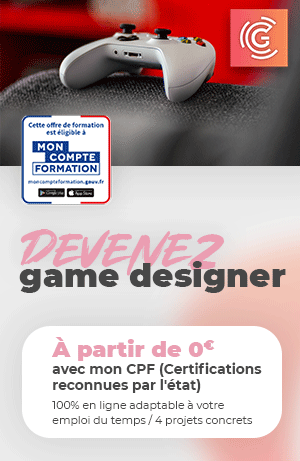 Date de publication initiale : 22/06/2022
---
Ces annonces peuvent vous intéresser !