Senior Game Designer Editorial H/F
CDI
PARIS, 75000 - Paris
il y a 100 jours
---
Cette annonce est désactivée, il n'est donc plus possible d'y postuler.
Vue d'ensemble

Description de l'entreprise :

Leader in the development and publishing of games, Gameloft® has established itself as one of the top innovators in its field since 2000. Gameloft creates games for all digital platforms, two of which are featured in the Top 10 iOS Games by All-Time Worldwide Downloads from App Annie. Gameloft operates its own established franchises such as Asphalt®, Dragon Mania Legends, Modern Combat and Dungeon Hunter and also partners with major rights holders including Disney®, LEGO®, Universal, Illumination Entertainment, Hasbro®, Fox Digital Entertainment, Mattel®, Lamborghini® and Ferrari®. Gameloft distributes its games in over 100 countries and employs 4, 000 people worldwide. Every month, 80 million unique users can BE reached by advertisers in Gameloft games with Gameloft for brands, a leading B2B offering dedicated to brands and agencies. Gameloft is a Vivendi company.

All trademarks referenced above are owned by their respective trademark owners.

Description du poste :

Game Lab is a Gameloft Paris team dedicated to creating innovative gameplay and concept work. We have several tasks : devising and fleshing out concept games, testing them using iterative prototyping, developing ideation tools and methods, infusing all Gameloft development teams with creativity, and helping those teams to boost the quality of their games. Throughout the year we deliver dozen new games and even more game concepts.

As Game Lab's Senior Game Designer, you will closely work with the VP Creation and Creation Manager, to provide support and insights, in regard to all the creative process, and Gameloft productions worldwide. You are confident your experience and talent will make you a valuable asset of our editorial team, no matter the games' genre and scope.

Your mission : Supporting game teams around the world to deliver top notch mobile and cross-platform games. Finding innovative game concepts and testing them on the market. Working with Gameloft top management to ensure consistency in our line-up, apply editorial best practices, and make sure everything lives up to our quality standards.

About you : You have a passion for mobile games and are unrivalled in your knowledge of our industry's game-design trends. You know about our past and have great ideas about our future. You have relevant experience managing teams and overseeing publishing. You've mastered the major principles underpinning game design theory, and also have extensive knowledge of the production process of a mobile game. You enjoy theory as much as practice, and are a driving force behind suggestions regarding both sides. You have experience working on a wide variety of game genres. If all this describes you, you're the perfect fit for the Game Lab !
- The main task of a Game Lab Senior Game Designer is to follow-up on all projects within Gameloft, to support game teams and make sure the game mechanics are aligned with the core concept of each project.
- BE a bridge between Gameloft top management expectations, and the game teams, to make sure of the projects consistency and quality.
- Work with local design directors and game designers to understand and help figuring out their design issues.
- Have a hand on a pulse of modern game design trends and practices and apply them in new creations.
- Relay information and best design practices across all studios. Build up documentation and how-to for each game genre, and help animating the game design community with talks and workshops.
- Survey and improve Gameloft creative process, when IT comes to designing games (from pre-production to soft launch, and live operations).



Profil(s) recherché(s)
Qualifications :

- At least 5 years of experience in the mobile video-game industry. For you, a job in mobile is your career of choice.
- Various projects released on the App Store or Google Play, including varied game genres. You have something to offer with regard to a wide variety of projects.
- You have several titles under your belt where you served in a Lead Designer position (or higher). You know how to motivate and lead creative teams.
- You have true mastery of tools for production (particularly Excel) and prototyping (mainly Unity). You know how to handle things yourself.
- You have experience working in publishing, and with distant teams.
- You're fluent in English and are able to clearly express your ideas or support complex arguments in that language.
-.
Working on console and PC games is a big plus.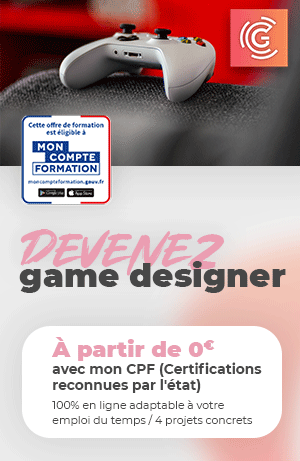 Date de publication initiale : 10/05/2022
---