Senior C++ Programmer M - W - Nb H/F
CDI
Saint-Mandé - 94
il y a 8 jours
---
Cette annonce est désactivée, il n'est donc plus possible d'y postuler.
Vue d'ensemble

Description de l'entreprise :

Ubisoft's 19, 000 team members, working across more than 40 locations around the world, are bound by a common mission to enrich players' lives with original and memorable gaming experiences. Their dedication and talent has brought to life many acclaimed franchises such as Assassin's Creed, Far Cry, Watch Dogs, Just Dance, Rainbow Six, and many more to come. Ubisoft is an equal opportunity employer that believes diverse backgrounds and perspectives are key to creating worlds where both players and teams can thrive and express themselves. If you are excited about solving gamechanging challenges, cutting edge technologies and pushing the boundaries of entertainment, we invite you to join our journey and help us Create the unknown.

Ubisoft InternationalProductionis the headquarters of our network of production studios and plays an essential role in the conception of our games. Closely working with the top management and our studios worldwide, our role is to support the various project teams on different topics (production processes, design, content, game direction, financial planning, human resources) in order to enable them to develop high-quality games while maintaining an editorial and strategic coherence. This particular position allows our team members to benefit from a global overview of all our current projects under development.

At Ubisoft, you have the opportunity to work and grow with passionate teams that are pioneers in their field, all around the world. You will evolve in a caring and inspiring environment in which you will push the limits of the imagination and technology to create story worlds that will fascinate our audiences.

Do you want to embark on our adventure? Ubisoft is looking for anEngineering Studio Developer (C++)

Description du poste :

The Engineering Studio team is looking for a developer that will work on various projects for different platforms including :
- Porting games on next gen consoles.
- Cloud gaming (Google Stadia for example).
- Patching and remastering games.
- Games compilations and game localization (development of Asian version, etc.).

You will BE part of a team of developers and dev testers, learn new technologies, discover the known engines of Ubisoft games and the process of master creation. You will create masters for Steam, Epic, Stadia, PS4 / PS5, Xbox, Switch, Google Store, Apple Store.

Your main missions include :
- Succeeding in a project efficiently alone or with a team.
- Ensure clear and structured programming, keeping performance, maintenance and compatibility requirements in mind.
- Optimization and debugging.
- Establish responsible deadlines and team estimations, managing your time effectively.
- Ensure the smooth communication with the similar production teams worldwide (with both technical and non-technical parties).



Profil(s) recherché(s)
Qualifications :

Must Have
- You are knowledgeable and have significant experience in Software Development in C++.
- You possess strong communication skills.
- You are rigorous and well organized.
- You have the ability to work as a team member as well as autonomously.
- You take initiatives.
- You are inquisitive and are used to work in a fast-paced environment.
- Your English and French are fluent.

Nice To Have
- Good knowledge of C#, ASP, PHP, Visual Basic, Python.
- Render programming (DirectX, OpenGL, Vulkan, Shader languages).
- Network programming.
- Some experience on Linux development (graphics, sound).
- Knowledge of Jira, Perforce.
- Knowledge of general game structure and game files on different platforms as well as burning/copy tools and protections.
- General knowledge of Image File formats/Sound File formats/Movie File formats.
- General knowledge of Windows OS internals (Registry/OS Files and Folders structure/Tweaks).
- Knowledge of multiplayer mode and Online Consoles Stores.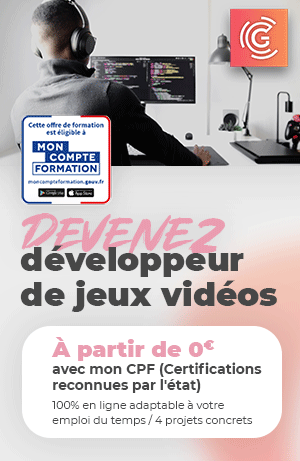 Date de publication initiale : 09/05/2022
---