Senior 3D Artist - Beyond Good & Evil 2 - Paris - Nb H/F
CDI
MONTREUIL, 93100
il y a 229 jours
---
Cette annonce est désactivée, il n'est donc plus possible d'y postuler.
Vue d'ensemble

Description de l'entreprise :

The World of UBISOFT

Ubisoft's teams are driven by their goal to enrich the life of the players with memorable and original entertainment experiences. They give life to beautiful worlds where the imagination can express itself completely, resulting in moments of surprise, fun and adventure that allow the player to learn and discover himself.

At Ubisoft, you have the opportunity to work and grow with passionate teams that are pioneers in their field, all around the world. You will evolve in a caring and inspiring environment in which you will push the limits of the imaginationand technology to create worlds that will fascinate our players.

In the context of its development, Ubisoft is looking for new talents to join its production studio in Paris, where titles such as "Ghost Recon : Breakpoint", "Mario+Rabbids : Sparks of Hope", "Just Dance 2022" or "Watch_Dogs Legion" have recently been developed.

Are you ready to take on new challenges?

Do you want to give beautiful experiences to the players? Come join us !

Description du poste :

Your skills will BE dedicated to BGE2, one of the most innovative productions at Ubisoft.

You will act daily with an highly skilled team of experts around multiple studios in Europe, to develop one of the most wanted feature of the game.

You will work closely with a Senior Technical Graphic Director and get the ownership on a transversal topic with the ability to disrupt the game creation methods

Your experience, your artistic vision together with your skills, will let you evolve successfully in this project and take part in an extraordinary adventure !

You will collaborate closely with technical artists and 3d engineers, focusing on producing cutting edges benchmarks, 3D assets.

Responsibilities :
- Develop high-quality assets.
- Produce Industry's Benchmarks references for other teams.
- Iterate with the Art Director to provide art recommendations around teams.

Your work will have a direct impact on the artistic vision of the project !



Profil(s) recherché(s)
Qualifications :

Requirements :
- 5+years of experience in a 3D Artist role or similar in the videogame industry.
- Strong knowledge of 3D modeling and texturing for games.
- Proficiency in DCC (3ds Max, Blender or Maya).
- Experience with the procedural pipeline (Houdini, Substance Designer, UE4 Blueprints etc.) is a plus !.
- Good communication skills, Ability to share knowledge.
- Open minded and readyforinnovations.
- Traditional art background.
- Passion and enthusiasm for videogames.
- Able to communicate and work in English.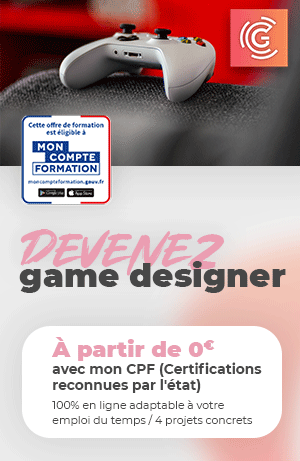 Date de publication initiale : 02/05/2022
---