Sdk Live Ops Developer - Ketchapp W - M - Nb H/F
CDI
PARIS, 75000
il y a 293 jours
---
Cette annonce est désactivée, il n'est donc plus possible d'y postuler.
Vue d'ensemble

Description de l'entreprise :

Ubisoft's 19, 000 team members, working across more than 40 locations around the world, are boundby a common mission to enrich players' lives with original and memorable gaming experiences. Their dedication and talent has brought to life many acclaimed franchises such as Assassin's Creed, Far Cry, Watch Dogs, Just Dance, Rainbow Six, and many more to come. Ubisoft is an equal opportunity employer that believes diverse backgrounds and perspectives are key to creating worlds where both players and teams can thrive and express themselves. If you are excited about solving gamechanging challenges, cutting edge technologies and pushing the boundaries of entertainment, we invite you to join our journey and help us Create the unknown !

For more than 7years, via its Ubisoft Mobile entity, Ubisoft has also shaped worlds on smartphones and tablets via its portfolio of mobile games.

At Ubisoft Mobile, you will have a chance to develop your skills and work alongside dedicated team members who are pioneers in their field, throughout the world.

You will BE part of a warm and stimulating environment in which you can push back the boundaries of both the imagination and technology to create worlds that will inspire our players.

Fully integrated in the Ubisoft environment and with more than 200 games in its catalogue, Ketchapp is one of the leading publisher of hyper-casual mobile games, and the name behind such hits as 2048, Knife Hit, Stack, Origame, Rider, among others.

Description du poste :

Member of the live Ops team of Ketchapp, you will help to build automatic CI / CD for our games, and update SDKs, create tool for update obsolete SDK in more effective way.

In this context, your missions will BE the following :
- You will create tools to maintain our back catalog up to date.
- You will automate build processes.
- You will help our third-party developers to integrate our SDK.
- You will help SDK team to create new features on the Ketchapp SDK.

You will also help to update third party sdks embedded in our main wrapper in an automatic and safe way. As a LiveOps Developer, you will participate in enhancing the effectiveness of our main SDK and help other teams to always have the best of the tools available. Your automatic processes and ways of updating games will also help Ketchapp improving their revenues and the quality of the games published.





Profil(s) recherché(s)
Qualifications :

Having acquired some initial experience as a Unity mobile developer in a similar environment, you wish to join a team that defines itself as "serious about fun". You have already configured continuous integrations solutions for other mobile projects and know how to deploy them automatically in various platforms. Unity Build system for mobile has no secrets for you.
Informations complémentaires
If the following description matches your profile, you're in !
- Proactive problem diagnosis and creative problem-solving skills.
- Minimum 2 years of experience with Unity on mobile development.
- You have good communication skills and can easily describe a solution.
- You have previously taken complete ownership of a feature or project.
- Good knowledge of C#, Unity for mobile is required.
- You already have released at least game on both iOS and Android with Unity.
- Experience building CI/CD solutions.
- You are experienced with the main 3rd party sdk in Unity (ex : Firebase, Ads, EDM4U...).
- You can speak English in a professional environment.

Even if they are not mandatory, the perfect candidate will also have :
- You have already setup CI / CD on Github.
- An previous experience with Objective C and Java.
- A keen interest in WebAssembly technologies especially Blazor.
- Knowledge of.NET Core and web development.
- Interest for hypercasual mobile games.
- Knowledge of code versioning tools (Git).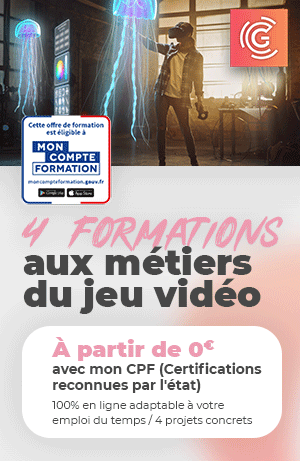 Date de publication initiale : 01/06/2022
---