---
Cette annonce est désactivée, il n'est donc plus possible d'y postuler.
Vue d'ensemble
Hi there! We're Playsoft, a mobile game studio of 40 passionated talents based in Gdansk, Poland.
As a game developer and publisher our mission is to bridge generations through mobile casual games.
We craft with love games that provide frictionless player experience and long-term entertainment.
We create amazing casual social games that are played by millions of players. To reach the widest audience:
-we develop and publish our own IPs,
-we acquire the rights of top Intellectual Properties of Characters (Sponge Bob, Ninja Turtles) or Events (The Tour de France) to design great games that we publish,
-we partner with the world's best publishers to reach the widest audience (Jam City, Scopely, EA, Square Enix, Outfit7…).
We are on our way to becoming one of the best Polish mobile game publisher.
We believe that life is more fun if you play games and even better if you create them.
We are constantly on the lookout for the best people to join us in this exciting quest. We promise constant leveling up, cooperating with amazing group characters, and the best gear and armor to help you gain the reward.
If you want to leave your footprint on the gaming world map and impact it forever– join us as a Product Owner and let the game begin!
Profil(s) recherché(s)
Character's mission:
Establishes a shared vision of the product between the team and stakeholders
Takes the responsibility for the long-term schedule of the game's development, using the metrics from team output and the product backlog. Continuously prioritizes and refines the product backlog
Participates in all Scrum meetings
Is a member of the Scrum team and can take on team tasks
Accepts or rejects sprint results
Communicates status externally
Ensures that the items in the backlog are relevant to their features, or that their features are dependent on, tracked, sized and prioritized accurately
Follows the budget and reports progress to stakeholders
Character's skills:
At least 3 years of XP in leading the production of Free to Play Mobile Games
Fluent English (full proficiency)
Perfect communication skills
Strong data analysis capacities
Ability to follow a budget
Nimble, result-oriented, able to go out of his/her comfort zone
Perfect knowledge of the mobile gaming market. Ability to deconstruct the main F2P successes of the last 5 years in terms of gameplay loop, metagame, and monetization triggers
Passion for mobile games and a smart vision of the mobile game industry and the free2play economy
Solid understanding and practice of agile methodologies is a plus
Informations complémentaires
Rewards:
Attractive salary
Employment contract of any type (according to your preferences)
Possibility to work remotely
Private medical care
Relocation package and assistance with the relocation process
Flexible working hours
Opportunity to work with the world's leading game publishers (like EA, Konami, Square Enix)
Work in a dynamic environment with the best Agile practices and putting emphasis on your self- improvement
Modern office filled with arcade cabinets, classical games, darts, table tennis, Xbox, PS4, lego wall, and
board games
Fresh fruits, tea, coffee, and beer
If you are interested in our offer please send your CV in English at rekrutacja@playsoft.fr
Please include the following statements in your application:
I hereby agree for processing of my personal data contained in my job application for the necessary needs of the ongoing recruitment processes carried out by Playsoft Sp. z o.o. based in Gdańsk
I hereby agree for processing of my personal data contained in my job application for the necessary needs of the future recruitment processes carried out by Playsoft Sp. z o.o. based in Gdańsk
I declare that I have read Playsoft privacy policy.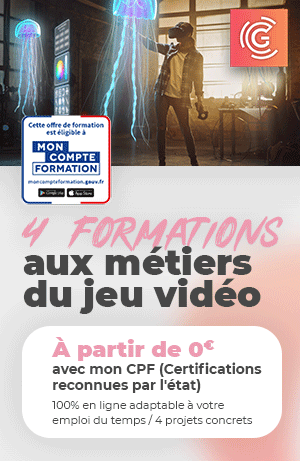 Date de publication initiale : 26/01/2021
---