Online Programmer M/NB/W
CDI
Paris, Région Île-de-France, 75000
il y a 13 jours
---
Cette annonce est désactivée, il n'est donc plus possible d'y postuler.
Vue d'ensemble
Founded in 2013, Ubisoft Paris Mobile is a studio specialized in the development of mid-core mobile games.
Thanks to its first successes like Assassin's Creed Pirates, the studio still contributes to the influence of Ubisoft's brands today with the development of titles like Might & Magic: Chess Royale or The Mighty Quest for Epic Loot, but also new licenses like Wild Arena Survivors. Other secret projects are yet to be announced and remain focused on gameplay, a key priority for Ubisoft Paris Mobile.
With 160 talents grouped in small and agile teams, the studio works daily to offer players new quality experiences on mobile.
Ready to join the adventure? We're waiting for you!
Are you passionate about online programming for video games? What about participating in the creation of a new license? The Ubisoft Paris-Mobile studio is looking for an Online Programmer to join our unannounced project at the very beginning of production.
Reporting to the Project Producer, you will be directly involved in setting up the infrastructure and various services within the Ubisoft Paris Mobile studio.
As such, your main missions will be to :
Design and implement solutions that meet the various needs of the production teams (for example a network framework for the gameplay teams)
Ensure the implementation and deployment of the infrastructure in the Cloud, monitoring and system administration of servers
Contribute to the development and integration of authentication services, matchmaking, social features, etc.
Ensure a regular and operational follow-up of these different solutions with the concerned parties
Promote dialogue and expertise sharing between project teams
Ensure a technical and competitive watch and a constant effort to innovate
Joining us means having access from day one to :



Flexibility in your working hours and the possibility to work remotely under the conditions of the Ubisoft policy.



20 days of remote working per year from a European Union country (reserved for European citizens);



Our internal e-learning platform to finally train you on the tools you need so much;



Our game library where you can borrow the latest Ubisoft games, those of the competition, consoles and board games;



Our preferential rates on a wide range of shows, cinemas, concerts, sports halls, amusement parks, and many other good deals.
And after 1 year?



You have a career and development plan established with your manager as well as clear objectives that will allow you to progress and increase your salary each year;



You have joined one of our clubs : choir, yoga, tennis, lightsaber... Or you have created your own!



You take advantage of your 1.5 hour lunch break to take part in a class in our gym or borrow one of our bicycles to ride in the Bois de Vincennes ;



You look forward to the next surf/yoga or ski weekend organized by the work council;



You've gotten really good at foosball, rock climbing, Mario Kart or Just Dance ;



You've raided the clearance sale sale to complete your collection of Ubi goodies and games (because we never have enough);
Check out this guide to help you with your application, and learn about our actions to encourage more diversity and inclusion.
You have at least 5 years of significant experience in online programming and have ideally participated in the production of at least one multiplayer game,
You are familiar with one or more Cloud providers (AWS, Google Cloud, Azure),
You have experience with "Infrastructure as code" solutions, especially Terraform,
You are enthusiastic about working in the Kubernetes ecosystem,
C# and service development have no secrets for you, as well as NoSQL database management (MongoDB, Redis),
The prospect of encountering strong scaling issues makes you happy,
You are meticulous, autonomous and you appreciate teamwork,
And you're fluent in English (both speaking and writing),
Bonus: knowledge of Unity and real time issues will be really appreciated, but not mandatory.
Ubisoft's 21,000 team members, working across more than 30 countries around the world, are bound by a common mission to enrich players' lives with original and memorable gaming experiences. Their commitment and talent have brought to life many acclaimed franchises such as Assassin's Creed, Far Cry, Watch Dogs, Just Dance, Rainbow Six, and many more to come. Ubisoft is an equal opportunity employer that believes diverse backgrounds and perspectives are key to creating worlds where both players and teams can thrive and express themselves. If you are excited about solving game-changing challenges, cutting edge technologies and pushing the boundaries of entertainment, we invite you to join our journey and help us create the unknown.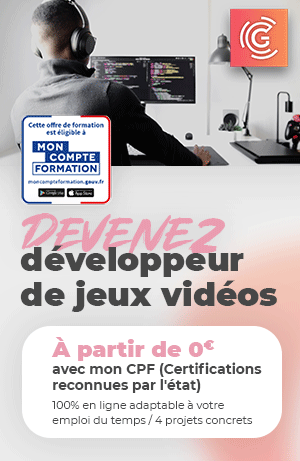 Date de publication initiale : 30/01/2023
---