Narrative designer - unannounced project (M/NB/W)
CDI
Montreuil
il y a 406 jours
---
Cette annonce est désactivée, il n'est donc plus possible d'y postuler.
Vue d'ensemble
Company Description

Ubisoft's teams are driven by their goal to enrich the life of the players with memorable and original entertainment experiences. They give life to beautiful worlds where the imagination can express itself completely, resulting in moments of surprise, fun and adventure that allow the player to learn and discover himself.

At Ubisoft, you have the opportunity to work and grow with passionate teams that are pioneers in their field, all around the world. You will evolve in a caring and inspiring environment in which you will push the limits of the imagination and technology to create worlds that will fascinate our players.

In the context of its development, Ubisoft is looking for a narrative Designer to join its production studio in Paris, where titles such as "Ghost Recon: Breakpoint", "Mario+Rabbids: Kingdom Battle", "Just Dance 2021" or "Watch_Dogs Legion" have recently been developed.

Job Description

A Narrative Designer stands by the Narrative team, working closely with Writers, Gameplay Designers, Programmers, Audio Designers and Mission Designers.

Uniting narrative structures and game systems to provide players with an immersive and captivating experience, always focusing on the coherence of the narrative above all.

The role demands to shape, communicate, and ensure the consistency of the narration with the creative vision, in tandem with the UX, UI, Audio and GD teams. This includes documenting, testing and implementing the narrative structure in the game.

Your tasks will be as follows


Collaborate with the Narrative Team in developing the game's story, structure, characters, tone, pacing and world-building with a focus on the seamless integration of narrative within the project.
Under the direction of the Narrative Lead, design and prototype narrative systems and content using our proprietary game engine.
In collaboration with the UX, UI and Game Design teams, define the best way to communicate relevant gameplay and narrative information to the player.
Create and maintain technical documentation related to narrative tools, workflows, and pipelines; ensure best practices are maintained throughout the game's development.
Participate in establishing the core narrative experiences to deliver to our players.


Profil(s) recherché(s)
Qualifications

Demonstrable previous experience as a Narrative Designer with at least one shipped game.

Experience creating clear, understandable design and technical documentation

Understanding of narrative, game design and visual/cinematic storytelling techniques

A good sense of timing, pacing and flow

Excellent written and verbal communication skills (in English)

We will also appreciate a previous experience with creating first or third person games, as well as an experience in systems narrative design.

An understanding of localization and dialogues pipelines will also help.
Informations complémentaires
Additional Information

The role will be located in Montreuil

Joining our studios in France also means :


Join one of the leaders of the video game industry in France that is present in 30 countries with evolution possibilities in one of them
Work with passionate teams with great technical expertise. All of them are willing to design and create high quality, innovative games
Collaborate with teams that are known for their strong experience of known IPs
Build your own expertise joining our internal events (talks, salons, conferences) and benefit from our personalized training programs


As an employer, Ubisoft offers equal chances to everyone no matter their gender, ethnicity, faith, sexual preferences, handicap or age.
Ubisoft develops an inclusive workplace, doing their best to reflect the diversity or their gamer community within the production teams.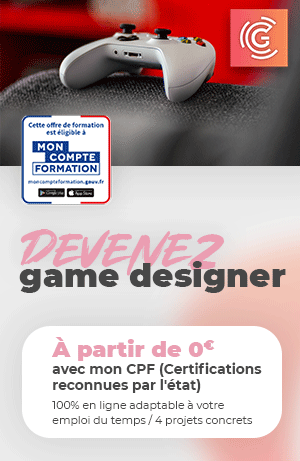 Date de publication initiale : 20/04/2022
---