Multiplayer Level Designer M - Nb - W H/F
CDI
ANNECY
il y a 80 jours
---
Cette annonce est désactivée, il n'est donc plus possible d'y postuler.
Vue d'ensemble
Informations complémentaires :

Description de l'entreprise :

Ubisoft's 19, 000 team members, working across more than 40 locations around the

world, are bound by a common mission to enrich players' lives with original and

memorable gaming experiences. Their dedication and talent have brought to life many

acclaimed franchises such as Assassin's Creed, Far Cry, Watch Dogs, Just Dance,

Rainbow Six, and many more to come.

Ubisoft Annecy

Founded in 1996, Ubisoft Annecy has developed many sagas, especially on Splinter Cell, Assassin's Creed®, while focusing on multiplayer online and social aspects, and also on concrete game mandates such as Tom Clancy's : The Division 2® and Ghost Recon Wildlands. We are now proud to have developed our own IP, Steep !

Located in one of the most dynamic regions of France, our Ubisoft studio is settled between lake and mountains, in the middle of Annecy, also known as the Venice of the Alps, 30 minutes away from Geneva International Airport. Having a studio with perpetual growth, we are focusing on our team members' commitment and team work. Our ambition relies on innovation and excellence with an ultimate purpose : our players' satisfaction !

Ubisoft is an equal opportunity employer that believes diverse backgrounds and perspectives are key to creating worlds where both players and teams can thrive and express themselves. If you are excited about solving game changing challenges, cutting edge technologies and pushing the boundaries of entertainment, we invite you to join our journey and help us create the unknown

Description du poste :

For its Annecy Production Studio, Ubisoft is looking for a Intermediate or Senior Level Designer to join a team in charge of developing AAA games Xdefiant.

Reporting to the Lead Level Designer, you will BE responsible for the design and integration of gameplay elements in the game environment (from conception to the debug phase). You will work within the World team in close cooperation with the Level Artists and other disciplines involved in the project development.

Your main tasks will BE :
- Respect the creative direction to realize the Level Design.
- Take responsibilities of game features and / or map area.
- Design and deliver content gameplay consistent with the direction of the game.
- Scripting various elements while respecting the technical constraints.
- Balance content and debug.
- Collaborate with the different disciplines involved in the game development (artists, animators, narrative designers...).
- Confirm the playability of the environment with the testers, Level Artists and Gameplay Programmers.

Qualifications :

You have at least a significant experienceas Level/Mission Designer in an AA / AAA game production

Independent, rigorous, and inventive, you have a very good knowledge of video game culture in general, as well as knowledge of at least one game engine.

Required skills :
- Layout and / or mission (quest) design mastery.
- Technical knowledge using editors and scripting tools (visual scripting).
- Ability to understand the creative direction of a game and to extend this vision to creating a mission.
- Able to defend and question your choices.
- Proactivity and problem solver oriented.
- Junior mentoring.
- Excellent knowledge of video games and general culture.
- Good level in English (spoken and written).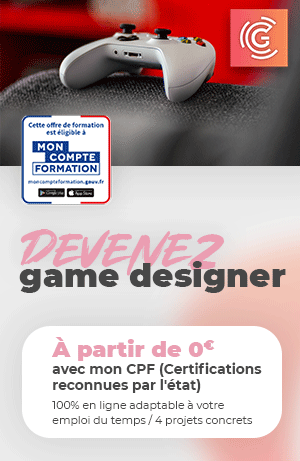 Date de publication initiale : 16/03/2022
---