Marketing Product Manager W - M - Nb - Ubisoft Mobile H/F
CDI
PARIS, 75000 - Paris
il y a 167 jours
---
Cette annonce est désactivée, il n'est donc plus possible d'y postuler.
Vue d'ensemble

Description de l'entreprise :

Ubisoft's 19, 000 team members, working across more than 40 locations around the world, are boundby a common mission to enrich players' lives with original and memorable gaming experiences. Their dedication and talent has brought to life many acclaimed franchises such as Assassin's Creed, Far Cry, Watch Dogs, Just Dance, Rainbow Six, and many more to come. Ubisoft is an equal opportunity employer that believes diverse backgrounds and perspectives are key to creating worlds where both players and teams can thrive and express themselves. If you are excited about solving gamechanging challenges, cutting edge technologies and pushing the boundaries of entertainment, we invite you to join our journey and help us Create the unknown !

For more than 9years, via its Ubisoft Mobile entity, Ubisoft has also shaped worlds on smartphones and tablets via its portfolio of mobile games.

At Ubisoft Mobile, you will have a chance to develop your skills and work alongside dedicated team members who are pioneers in their field, throughout the world.

You will BE part of a warm and stimulating environment in which you can push back the boundaries of both the imagination and technology to create worlds that will inspire our players.

Description du poste :

At Ubisoft Mobile HQ, you will join the Marketing team to work on a number of unannounced mobile projects. In close collaboration with our various business lines, you will BE the main ambassador for our games with our internal and external partners, collaborating on the marketability of our titles throughout their life cycle. You will drive the continuous improvement of our projects and their performance in terms of acquisition and visibility.

In this capacity, your tasks will BE as follows :
- Ensure ongoing competitive intelligence to help improve our games, our communication and our visibility, and to fuel the studio's strategic thinking and inspire the teams.
- Ensure that our titles are properly positioned with respect to their audiences and their promise, by drawing on internal and external data (consumer research, market analysis, trends, etc.) in conjunction with the internal teams.
- Establish the communication strategy (timeline and milestones) in collaboration with Mobile HQ's marketing team and with World marketing teams, and define the key messages and their effective rendition in marketing materials.
- Build the identity of our games by ensuring the relevance of their key messages and visual elements, in collaboration with the internal teams (production, creative, etc.).
- Ensure the delivery, consistency and quality of the elements needed for marketing and acquisition campaigns (store partners, PR, branding, community, user acquisition, etc.) in connection with our team of artists or with agencies.
- Act as the main contact for Mobile HQ's production team and marketing team, and coordinate the marketing campaigns with the latter.



Profil(s) recherché(s)
Qualifications :

- Having gained initial marketing experience in the entertainment industry, you will have already devised and implemented an ambitious marketing campaign, ideally for a mobile video game.
- You are up to date with the video games market, with a special interest in mobile and free-to-play games.
- You benefit from excellent oral and written communication skills, and strong relational skills, both in English and French.
- Team spirit and collaboration are the cornerstones of your approach to your work.
- You are fully able to argue your case, and to constructively present and defend your point of view with other business lines.
- Rigorous and organized, you are able to manage your projects and monitor their deadlines while remaining flexible in order to adapt your approach and deal with exceptional situations.
- You are eager to create editorial content and hard-hitting visuals, and prompt to challenge your own beliefs and actions.
- You are perfectly at home in an international, multicultural context.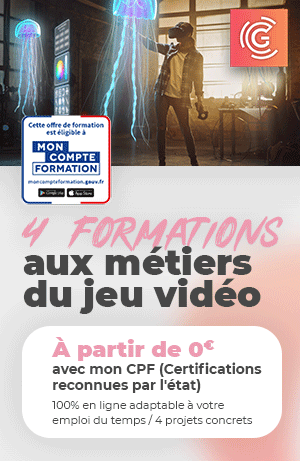 Date de publication initiale : 22/06/2022
---