LiveOps Director M/W/NB
CDI
Paris, Région Île-de-France, 75000
il y a 121 jours
---
Cette annonce est désactivée, il n'est donc plus possible d'y postuler.
Vue d'ensemble
As a Live Ops Director (M/W/NB), you will work closely with the studio's production teams, and especially with the Producing team, but also with the HQ BI.
As a Live Ops Director, your role will be to cover all these topics:
Support the live readiness of the games
Collaborate with the PRODUCTION and MARKETING teams on the games' economy and monetization strategy
Assess and develop the tools required to operate the game in live in collaboration with MARKETING, PRODUCTION and CS
Define and support the deployment of tracking plans in collaboration with PRODUCTION and HQ BI
Define and deploy dashboards to support the needs of OPS, PRODUCTION and MARKETING
Fuel the post-launch roadmap
Provide PRODUCTION and MARKETING with solid and actionable games' data to build the live ops strategy
Support MARKETING and CS with the definition of the community strategy, based on players' feedback
Define post-launch content calendars, events, features/game modes in collaboration with MARKETING and PRODUCTION
Develop and deploy partnerships consistent with the live roadmap in collaboration with MARKETING, PRODUCTION, HQ BIZ, HQ Licensing
Optimize the business performance in live
Work closely with the production to optimize the design and the features of the games to improve the ARM
Input changes and recommendations based on the continuous analysis of the metrics of the games
Prioritize and deploy A/B test programs, segmented campaigns, shop promotions, etc to improve the performances of the games
Organize events (in- and off-game) and lead transversal initiatives to increase the revenues of the games
You will report directly to the Studio Manager of Ubisoft Paris Mobile and will work with the studio's flagship project. Eventually, you may also come to manage a team of 2 game data analysts, a monetization manager, as well as collaborators working on the segmentation and community tool.
Joining our Ubisoft Paris studio also means:
Having the opportunity to work on well-known IP's from Ubisoft,
Being part of the most ambitious AAA mobile Project of Ubisoft,
Being proactive and implementing new ideas within teams,
Working with passionate and talented people to offer the best user experience to our players!
And ? :
Ticketing & Good deals: discounts on cultural subscriptions, cinema, recommendations for outings...;
Sport & Clubs: discount on sports subscriptions (gym, climbing, swimming pool...) + access to Ubi clubs (leisure, sport and music);
Games & Co: Unlimited access to our catalogue of PC games via Uplay, goodyshop, toy library;
At Ubisoft Paris Mobile, we are looking for innovative and original minds who want to build the future of the video game industry and make great games.
Check out this guide to help you with your application, and learn about our actions to encourage more diversity and inclusion.
Your strategic vision and understanding of the business challenges of one or more games will be imperative for this role,
Optimizing the performance and data/financial aspects of Ubisoft Paris Mobile productions will be your first focus,
You are comfortable with the data side of a game, and are able to understand all the issues and refer to the studio's financial team, if necessary,
You are comfortable communicating with producers, making solid recommendations, and interacting with the HQ BI,
At Ubisoft Paris, we build today the virtual arenas of tomorrow. Mobile games that are both accessible and far-reaching, in which millions of players take each other on and ultimately come together.
In every one of our creations, we put the focus on gameplay. Gameplay must innovate and federate so that as many people as possible can enjoy it, whether as players or spectators. As a result, our games are alive and dazzling. They tell their stories through the seasons. They are devised not only with great enthusiasm, but also with our players.
Striving for excellence involves learning every day: from our players, from our competitors, and from ourselves. Joining Ubisoft Paris means benefiting from the resources and expertise of the world's third largest independent video games publisher; it means being able to push forward Ubisoft's biggest licenses as part of an agile structure, all through human-sized teams.
Within our studio, we share the same idea of a challenging, compassionate working environment, one that prospers from the wealth of our talents and the diversity of our personalities. More than anything, we firmly believe that only by playing together can we create the best possible experiences.
You will join the studio behind such successful games as Wild Arena Survivors, Mighty Quest, Might & Magic Chess Royale as well as new, unannounced titles on Ubisoft Ips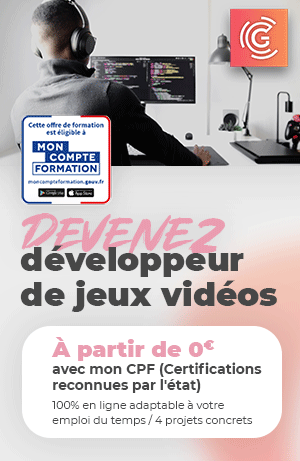 Date de publication initiale : 30/01/2023
---