Legal Counsel - Music M/W
CDI
Montreuil
il y a 209 jours
---
Cette annonce est désactivée, il n'est donc plus possible d'y postuler.
Vue d'ensemble
Company Description
Ubisoft is committed to enriching players' lives with original & memorable gaming experiences. We build worlds that are a playground for the imagination, offering moments of surprise, fun and adventure as well as opportunities for learning and self-discovery. At Ubisoft, you'll grow and collaborate with highly talented teams from around the world. Our massively friendly work environment will inspire you to go above and beyond to create worlds people will fall in love with.
Our heroes are full of character. Full of their own challenges, hopes and dreams. Just like our team members. And for Ubisoft, music matters. Shall we meet?

Job Description
At Ubisoft's Legal Department, we're looking for creative ground-breaking top talent, innovating and disruptive business executive professionals whose area of expertise happens to be legal. Like us, you're passionate about games, about music, about people, about communication, about having a transformative impact in this fast moving ever evolving legal world. You're not afraid to experiment, try and try again until you succeed and always positive. You're mindful, emotionally intelligent, adaptable and a real strategic business partner.
Come join us!
Our Legal team is organized in a centralized structure around business priorities with dedicated legal counsels for each area of expertise. Being embedded across the business units enables us to be tactically focused on the specific needs at stake and to provide the exact attention needed to conduct the company's business effectively. We are proud of the very strong partnership between the legal team and all Ubisoft's teams which we strive at perpetuating and enriching every day.
As music-specialized Legal Counsel based in Paris working closely with the Game Production team, you're at the heart of what makes Ubisoft so unique: content. Your days will be filled with music-related problem solving equations, devious questions which answers are never black or white and have multicultural legal implications. Internationally and culturally diverse professionals from around the world who strive at finding the next innovative breakthrough in game development and player experience will become your best friends and look up to you for disruptive and innovative legal advice breaking the boundaries of any current and future rules and regulations. You are responsible for building the most innovative legal solutions that comply with current regulations in all countries where Ubisoft operates. You work upstream to identify the best strategy, to assess and manage risks and to provide support in implementing such solutions. Your ultimate goal is to allow our creators to use the best music pieces.
Business partner is your motto. Anticipation, your creed.
You will:
Draft, review and negotiate all sorts of music-related agreements in French and English or American-English, for a variety of third party contractual relationships, including licensing, commissions, distribution.
Provide strategic and practical advice to Ubisoft's production teams, summarizing and communicating legal concepts that production people can use
Be the one to call for any music-off-the-wall-content question production teams have and provide tips and tricks for the teams to move forward
Support, accompany and train all creative teams around the globe to give them the best legal reflexes needed to boost their creativity. You will collaborate with other legal counsels around the globe to develop the tools needed for such training
You'll always keep an ear out for any shift in a legal landscape and business developments in the video game industry and other disruptive industries which could impact directly or indirectly production subjects
Ensure conformity with Ubisoft's business needs, policies and risk tolerance
Anticipate and support the continuous improvement of standard form agreements and legal processes
Manage and work closely with specialized outside counsels on any pre-litigation touchy situations
Profil(s) recherché(s)
Qualifications
You are:
Educated: you have a law degree from a French law school (?Master Droit des Affaires ou Propriété Intellectuelle in France), being a musician is a plus, loving music is a must.
Experienced: Minimum 7 years related experience, with a focus on music law, preferably in-house.
You're comfortable working on various contracts in the music publishing and recorded music fields; drafting and negotiating under any legislations. You either have separate or combined experiences in the publishing and master fields. You are expert in synchronization licenses and have a strong experience with collective management bodies.
You're not afraid of project management aspects; both comfortable in streamlining processes and analyzing in depth.
Bilingual English and French, meaning really bilingual, you're at ease switching orally and in writing from one language to the other and can negotiate in Shakespeare's language on the dot. Daily work language is English. Experience in an international environment is a plus.
Emotionally intelligent and curious: you have excellent interpersonal skills with a highly motivated mindset. You have excellent legal and business-friendly judgment and are experienced in building consensus across cross-functional stakeholders. You know how to listen.
Multicultural: you have experience working on multiple different projects simultaneously in a multilingual environment. You're born in a team-work spirit and environment.
Negotiation: you negotiation motto is win win. You keep cool whatever the circumstances. Moving in ambiguous and unknown fields does not scare you.
Last but not least: you're not risk adverse.
Informations complémentaires
Additional Information
Don't hesitate and send us your application if you want to join us in this permanent position at our International HQ based in Montreuil.
Joining Ubisoft means joining a Company, which was elected Great place to Work (6th in France in 2018), and for us it is more than a title in a competition. You get all the good vibes and energy you can find in a startup, coupled with all the advantages of a big company:
Profit sharing
12 RTT (paid days off)/year + 25 days paid leave/year
4 free video games/year (ours of course ;))
1 month paternity & coparent leave
A workplace team dedicated to make your daily work experience at Ubisoft the best: breakfasts on Mondays, rest areas, gaming areas, free hot drinks and fresh fruit, discount on shows?
And many more to find out?
If you want the job and you think you have the required qualifications, you just have to apply via SmartRecruiters. We will get back to you under 3 weeks and, if your profile is indeed a match, we will organize a 20-30 minutes phone interview, which may be followed by several interviews.
Ubisoft offers the same job opportunities to all, without any distinction of gender, ethnicity, religion, sexual orientation, social status, disability or age. Ubisoft ensures the development of an inclusive work environment which mirrors the diversity of our gamers community.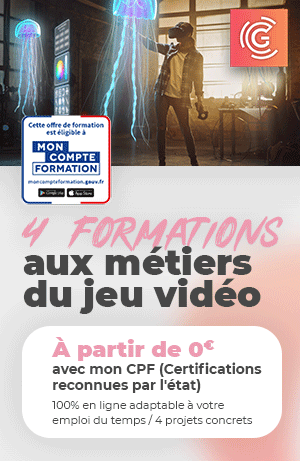 Date de publication initiale : 20/04/2022
---