Lead Unity Developer.
CDI
France
il y a 49 jours
---
Cette annonce est désactivée, il n'est donc plus possible d'y postuler.
Vue d'ensemble
Do you have Unity and C# experience, and are seeking a new job in Torcy? Our client is looking for a Lead Unity Developer, and the role comes with an attractive salary of up to ?65,000 p/a and a benefits package.

To give you an idea of how this role would look and feel, here are some of the things you could expect to do:

Work closely with the Producer and the leads of the team to design and implement mechanics adapted to the needs of the project
Provide a key element in the design and implementation of each project, ensuring technical feasibility and providing the most consistent solutions
Guide the developers to convey the technical choices to them and organise their work throughout the production
To apply for this Lead Unity Engineer role, you will need a minimum of 3 years of experience in a similar position, including two games released. You will also require the following:






Profil(s) recherché(s)
A minimum of 5 years experience with C# and Unity 3D
The ability to find simple and elegant solutions to the most complicated problems
A real interest in video games and gameplay
The ability to manage a team and collaborate
In return for your dedication and commitment, we will provide an attractive salary of up to ?65,000 p/a.
Informations complémentaires
To apply for this full-time Lead Unity Developer position in Torcy, please contact Katie from Skillsearch at today.

Here at Skillsearch, we're a recruitment company. In the simplest form, this means we place people at new companies - but it's so much more than that. For the past 30 years, we've been busy helping people (like you) with sought after skills find jobs in the Games, Interactive and Enterprise Systems industries all around the globe. Our company comprises a team of dedicated consultants that work across various niche technologies, including Games, Virtual Reality, AR and XR, Workday, Oracle, Peoplesoft, and eCommerce. We are always exploring other cutting-edge markets. Follow us to see a few of the jobs we're working on, find out which events you can see us at, and keep up with news in the technology, gaming and interactive world. Welcome to Skillsearch!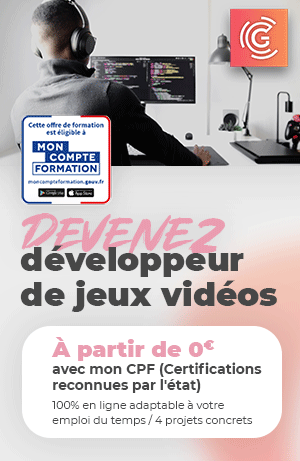 Date de publication initiale : 20/12/2022
---