Lead Programmer C++ M/W/NB
CDI
Montreuil - Seine-Saint-Denis
il y a 45 jours
---
Cette annonce est désactivée, il n'est donc plus possible d'y postuler.
Vue d'ensemble
Ubisoft's 20,000 team members, working across more than 30 countries around the world, are bound by a common mission to enrich players' lives with original and memorable gaming experiences. Their commitment and talent have brought to life many acclaimed franchises such as Assassin's Creed, Far Cry, Watch Dogs, Just Dance, Rainbow Six, and many more to come. Ubisoft is an equal opportunity employer that believes diverse backgrounds and perspectives are key to creating worlds where both players and teams can thrive and express themselves. If you are excited about solving game-changing challenges, cutting edge technologies and pushing the boundaries of entertainment, we invite you to join our journey and help us create the unknown.
Job Description
As a Lead Programmer on our AAA project, you will manage a team of engine and 3D programmers. You will oversee the development of various game relevant systems and foster a good climate within the team to enable people and invest in their development. You will be working closely with the gameplay team, as well as other leads and people from different disciplines across different studios internationally, using agile methodologies to drive the work.
Your main responsibilities will be:
Lead a team of interdisciplinary programmers (engine, 3D) with a wide set of expertise (procedural generation, rendering, animation...),
Mentor, manage and regularly review team members to continue building a cohesive and effective team,
Foster a healthy collaboration of the various programming groups within the team, together with the project leadership group,
Oversee and engage in architectural and systemic direction that is in line with the internal team as well as the lead studio,
Work within the project's producing team to align on priorities and roadmap projection,
Identify risks and opportunities presented during the development and provide solutions to resolve potentially complex problems,
Go hands-on with the code yourself when the situation so requires.
Profil(s) recherché(s)
Qualifications
7+ years of game programming experience with a focus on engine programmation,
Experience with managing or mentoring a small or larger team of programmers,
Proficiency in C++ ,
Ability to adapt to and optimize existing systems,
Excellent debugging and problem-solving skills,
Understanding of multi-threaded principles,
Ability to work efficiently with a large, existing code base,
Excellent communication skills and ability to work in an international team on several time zones,
Excellent verbal and written interpersonal skills in English (French is a plus),
Willing to relocate to Paris, France.
Informations complémentaires
Additional Information
This is a permanent contract, based in Montreuil (near to Paris).
We are an equal-opportunity employer and value diversity at our company. We do not discriminate on the basis of race, ethnicity, religion, gender, sexual orientation, and age or disability status.
Summary
Type: Full-time
Function: Engineering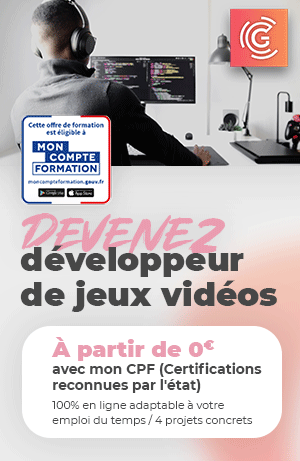 Date de publication initiale : 31/05/2022
---