Lead Level Artist F - M - Nb Star Wars Project H/F
CDI
ANNECY, 74000
il y a 46 jours
---
Cette annonce est désactivée, il n'est donc plus possible d'y postuler.
Vue d'ensemble
Ubisoft's 19 000 team members, working across more than 40 locations around the world, are bound by a common mission to enrich players' lives with original and memorable gaming experiences. Their dedication and talent have brought to life many acclaimed franchises such as Assassin's Creed, Far Cry, Watch Dogs, Just Dance, Rainbow Six, and many more to come.

Ubisoft Annecy

Founded in 1996, Ubisoft Annecy has developed many sagas, especially on Splinter Cell, Assassin's Creed®, while focusing on multiplayer online and social aspects, and also on concrete game mandates such as Tom Clancy's : The Division 2® and Ghost Recon Wildlands. We are now proud to have developed our own IP's, Steep and Riders Republic !

Located in one of the most dynamic regions of France, our Ubisoft studio is settled between lake and mountains, in the middle of Annecy, also known as the Venice of the Alps, 30 minutes away from Geneva International Airport. Having a studio with perpetual growth, we are focusing on our team members' commitment and team work. Our ambition relies on innovation and excellence with an ultimate purpose : our players' satisfaction !

Ubisoft is an equal opportunity employer that believes diverse backgrounds and perspectives are key to creating worlds where both players and teams can thrive and express themselves. If you are excited about solving game changing challenges, cutting edge technologies and pushing the boundaries of entertainment, we invite you to join our journey and help us create the unknown.

As a Lead Level Artist in the Annecy Studio, you will BE working together with the team at Massive Entertainment to create a new story-driven open-world video game set in the Star Wars galaxy. Our goal is to create a game and a story that bring both new and lifelong fans on an immersive and outstanding journey, which will stay with them for years to come !

At the heart of the Art team and under the management of the Lead World, and will help the Art Director, on production of the graphic quality of the environments produced in Annecy. You will direct, support, mobilize and develop an artistic team in a collaborative multidisciplinary environment. You will BE responsible for the production of game environments to meet the quality ambitions of the project while respecting technical, time and budget constraints.

This role defines and follows the schedule of the team, manages and supervises the members of IT, while being a key player in the artistic style of the project.

Main responsibilities :
- Understand and carry the Artistic direction, with the Environnement Artists team while ensuring its understanding, its enrichment and its application
- Support and develop a team of Level Artists / Environment Artists in order to achieve ambitious goals for a AAA game and define new standards
- Structure and organize the production of the team in order to build and maintain a high performing team
- Participate in establishing excellent collaboration with partner studios, a key element of success, as well as with other production trades
- Manage your team's human resources, career monitoring, performance, and objectives.

Your communication, your artistic judgment, your proactivity and your team spirit are part of your strengths;

Expected skills :
- Proven experience in leading a team of artists, internal and outsourced, either in the day to day life or with a long-term vision (career management, training)
- Great communication skills and the ability to positively motivate a team
- Excellent knowledge of video game development process and interactions between the artistic, design, and technical jobs;
- Strong experience in creating high-quality AAA Level art
- Great communication skills, a positive attitude and experience in leading a team of artists
- High artistic skills, design and composition of a 3D environment in realistic style are part of your strengths;
- You understand the constraints related to real-time and master the "basic" 3D graphics tools such as 3DS Max, Maya, etc.);
- To BE strong in organization and anticipation while being creative;
- Know how to collaborate and communicate constructively;
- Take initiative and BE committed to achieving high results;
- You demonstrate leadership and are able to coach a team in a changing professional environment;

Having French speaking skills a plus.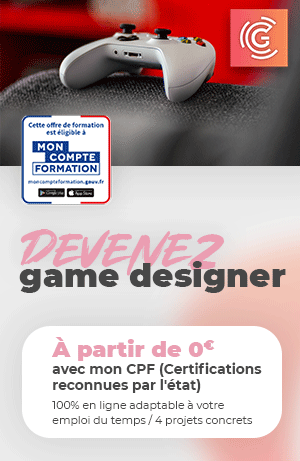 Date de publication initiale : 16/03/2023
---