Lead Gameplay Programmer
CDI
Annecy, 74000
il y a 54 jours
---
Cette annonce est désactivée, il n'est donc plus possible d'y postuler.
Vue d'ensemble
Ubisoft's 20 000 team members, working across more than 40 locations around the world, are bound by a common mission to enrich players' lives with original and memorable gaming experiences. Their dedication and talent have brought to life many acclaimed franchises such as Assassin's Creed, Far Cry, Watch Dogs, Just Dance, Rainbow Six, and many more to come.
Ubisoft Annecy
Founded in 1996, Ubisoft Annecy has developed many sagas, especially on Splinter Cell, Assassin's Creed, while focusing on multiplayer online and social aspects, and also on concrete game mandates such as Tom Clancy's: The Division 2 and Ghost Recon Wildlands. We are now proud to have developed our own IP, Steep!
Located in one of the most dynamic regions of France, our Ubisoft studio is settled between lake and mountains, in the middle of Annecy, also known as the Venice of the Alps, 30 minutes away from Geneva International Airport. Having a studio with perpetual growth, we are focusing on our team members' commitment and team work. Our ambition relies on innovation and excellence with an ultimate purpose: our players' satisfaction!
Ubisoft is an equal opportunity employer that believes diverse backgrounds and perspectives are key to creating worlds where both players and teams can thrive and express themselves. If you are excited about solving game changing challenges, cutting edge technologies and pushing the boundaries of entertainment, we invite you to join our journey and help us create the unknown.
Job Description
As a Lead Gameplay Programmer, you are the guide of a team of talented and inspired programmers responsible for the development of technologies essential to the creation of the games long awaited by Ubisoft fans. Your team achieves its goals by following your leadership and the technical orientations you provide. Your team and you are at the very center of the players' experience. Daily, you collaborate closely with several teams, contribute to game design and determine the best way make your shared vision come to life.
What you'll do
Ensure the quality of existing systems, ensure their evolution and develop new Gameplay systems.
Monitor and participate in the implementation of the architecture as well as the development and implementation of all gameplay features under your responsibility
Work closely with design teams to prototype, support and deliver features that will maximize the fluidity and quality of the player experience.
Prioritize and manage daily team tasks, review complex bugs and determine the best way to approach them together
Ensure the achievement of the team's deliverables while respecting the budget and production needs
Evaluate the performance of your team members and support them in their development by defining specific objectives as well as giving regular and constructive feedback
Establish and ensure the maintenance of a team culture oriented towards collaboration and creativity
Communicate with other teams within the project, the studio and the large network of Ubisoft studios
Ensure the implementation of good programming practices and code standards
Profil(s) recherché(s)
Qualifications
Significant experience in gameplay programming
Strong interest in team management (task management, performance reviews, etc.) and project management.
Strong knowledge of game mechanics, AI, enemies, 3C (Characters, Camera, Controls) UI, sounds?
Notions of algorithms and good knowledge of mathematics
Proficiency with C ++ programming and knowledge of gameplay scripting systems (ex: Blueprint)
Excellent communication and strategic leadership skills
Ability to receive, solicit and give constructive feedback
Ability to remain calm in difficult situations (you know there is always a solution)
A real understanding of video game production as well as being able to put yourself in the shoes of other trades involved in production
A desire to learn French to be able to work in a bilingual environment
Informations complémentaires
Additional Information
Ubisoft is committed to creating an inclusive work environment that reflects the diversity of our player community. Qualified applicants will receive consideration for employment without regard to their race, ethnicity, religion, gender, sexual orientation, age or disability status.
All information will be treated as confidential in accordance with the Employment Equity Act.
Integrating the Ubisoft French studios also means:

Join passionate and highly technical teams, all driven by the desire to design and develop innovative games and stand out for their quality
Collaborate with teams recognized for their experience on renowned franchises
Develop expertise by participating in in-house sharing events (talks, conferences, trade shows) and benefiting from tailor-made training programs
Evolve in a leading French videogame company represented in 30 different countries, with opportunities for international development
Summary
Type: Full-time
Function: Engineering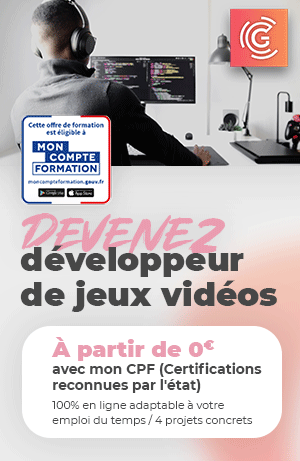 Date de publication initiale : 19/04/2022
---