Lead Game Designer - Howrse F - M - Nb H/F
CDI
PARIS
il y a 328 jours
---
Cette annonce est désactivée, il n'est donc plus possible d'y postuler.
Vue d'ensemble
Informations complémentaires :

Description de l'entreprise :

The company :

Ubisoft's 19, 000 team members, working across more than 40 locations around the world, are bound by a common mission to enrich players' lives with original and memorable gaming experiences. Their dedication and talent has brought to life many acclaimed franchises such as Assassin's Creed, Far Cry, Watch Dogs, Just Dance, Rainbow Six, and many more to come. Ubisoft is an equal opportunity employer that believes diverse backgrounds and perspectives are key to creating worlds where both players and teams can thrive and express themselves. If you are excited about solving game-changing challenges, cutting edge technologies and pushing the boundaries of entertainment, we invite you to join our journey and help us Create the unknown.

The studio :

Founded in 2005, Owlient is a Ubisoft development studio specialising in Free-To-Play games.

Owlient has become an expert in F2P community games through its Howrse brand, which has over 1.3 million active players per month in 25 countries.

Today, the studio's ambition is to become a key player and a leader in the mobile F2P industry. Thanks to years of success in web F2P and Ubisoft's impressive network of 29 creative studios, Owlient has all the keys to a successful transition to the mobile industry.

If you are passionate about video games and want to evolve in a casual and dynamic environment, join us in our mobile adventure !

Description du poste :

The Design team of your free-to-play game is looking for his or her future Lead !
Within a team of 3 designers, we are looking for someone who is able to support a team in filling the daily missions.

Howrse is a live game with regular live events. Our Game Design team builds these live events from the conception to the production. The person who will lead this team will in charge of these missions :

60% management
- Organisation of missions and team priorities.
- Communication with different teams with which game design collaborates (validation of concepts and designs with the producer, exchanges on feasibility with programmers, support of artists in their artistic direction, participation in functional reviews, beta, playtests [...]).
- Prioritisation of tasks and monitoring of deadlines.
- Handling of recurrent team follow-ups, evaluations as well as more rare recruitment missions.

40% design
- Conducting brainstorming sessions.
- Analysis and optimisation of live events and core gameplay loops.
- Participation in the elaboration of specifications.
- Implementation of new tools to facilitate game design work and collaboration with other teams.

Qualifications :

Following firstprofessional experiences in the development of free-to-play mobile games or in a similar environment, you would like to join a team that defines itself as "serious about fun".

If you fit the following description, you're the one !
- You have at least one experience on a live game.
- You have an interest in management games (and/or horse games !).
- You have proven experience in casual gaming.
- You are able to prototype quickly.
- Thanks to your knowledge of the F2P environment, you have a good understanding of retention and monetisation indicators.
- Your colleagues appreciate your communication skills and your ability to convince.
- Web and mobile awareness will BE highly appreciated.

Finally, fluent professional English is essential.

Previous lead experience will BE appreciated but is not essential.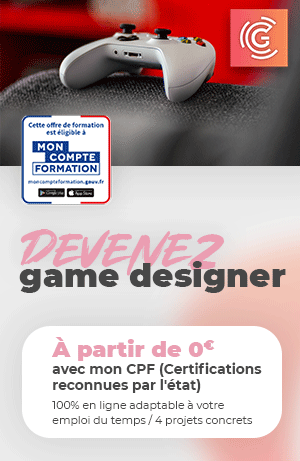 Date de publication initiale : 16/03/2022
---