Lead Game Designer - Green Panda Games M - W - Nb H/F
CDI
PARIS, 75000 - Paris
il y a 47 jours
---
Cette annonce est désactivée, il n'est donc plus possible d'y postuler.
Vue d'ensemble

Description de l'entreprise :

Ubisoft teams are driven by their desire to enrich players' lives through original, memorable entertainment experiences. These teams bring to life whole new worlds - veritable playing fields in which players can freely express their imagination, leading to moments of surprise, fun and adventure, as well as fostering learning and discovery.
For more than 7years, via its Ubisoft Mobile entity, Ubisoft has also shaped worlds on smartphones and tablets via its portfolio of mobile games.

Green Panda Games is a vibrant and fast-growing mobile gaming start-up, part of the Ubisoft group. We are a leading mobile games publisher with games downloaded more than 250 million times in more than 150 countries !

We primarily create and publish idle games, but also games from diverse categories, ranging from hyper-casual to casual, constantly deepening our games' mechanics and our portfolio. We are looking to further grow our internal creation and publishing businesses at a rapid pace.

We are motivated, ambitious and passionate individuals in high-performing teams, who share the aim to become the best mobile gaming publisher in the industry. We need your help to achieve this !

Description du poste :

As the Head of Game Design, you will BE in charge of managing the Game Design team. Reporting to the VP Creation, you will BE at the forefront of our production system, liaising with the top management and all the different teams' managers. Your responsibilities will BE the following :

Lead the game design team, helping them to grow and making sure everyone performs well and feels good in his/her job;

Pitching ideas for new features and game concepts for various genres

Communicate your vision clearly and establish a strategy to deliver on project goals, in collaboration with top management;

Accompany the team formalizing and clarifying concepts and features into clear documentation;

Support them in the creation of workflows, techniques, game economy and game systems;

Oversee and improve game play, economy design and monetization, UX and UI of games;

Make strategic decisions based on KPIs;

Benchmark the stores daily to identify and create new trends;

Deconstruct and analyze mobile game mechanics.



Profil(s) recherché(s)
Qualifications :

Qualities we are looking for :

You have a solid experience as a Senior Game Designer, Lead Game Designer or Head of Game Design,

You have a first experience managing people,

You are an hyper-passionate and motivated person,

You are a data savvy person with a design thinking and user centric approach,

Thanks to your strong analysis skills, you're able to identify and adapt your decisions accordingly,

You are able to efficiently manage yourself and several other game designers and game economy designers, adapting your communication depending on the situation and the interlocutor,

You are able to speak English in a professional environment.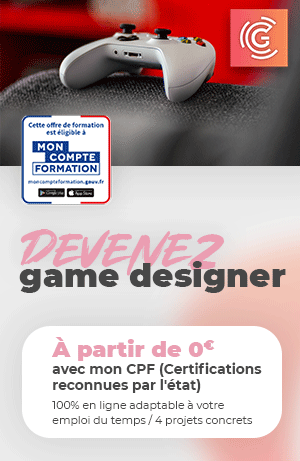 Date de publication initiale : 21/07/2022
---
Ces annonces peuvent vous intéresser !