Lead Community Manager H/F
CDI
PARIS, 75000 - Paris
il y a 13 jours
---
Cette annonce est désactivée, il n'est donc plus possible d'y postuler.
Vue d'ensemble
Who are they?

Oh BiBi est le studio de jeux le plus innovant de France (voire même du monde, allons-y franchement) ! Fondé en 2012 par d'anciens Gameloft, Oh BiBi n'a qu'un seul objectif : développer les jeux mobiles les plus incroyables de l'histoire.

Loin de se cantonner à un genre de jeu unique, Oh BiBi ne s'impose aucune limite et travaille aussi bien sur des jeux de course, jeux de tir ou jeux de simulation. Avec à chaque fois une seule ambition : révolutionner le genre sur plateformes mobiles !
Grâce à son équipe de développeurs stars, Oh BiBi a fait de la performance, du plaisir de jeu et de la qualité esthétique des piliers de son travail.

Job description

Oh BiBi is looking for a Lead Community Manager to work on current & upcoming games.

Warning : to all the generalist community managers, being a community manager in the gaming industry is very specific and you absolutely NEED to have a previous experience in mobile gaming and a very good knowledge of the industry.

We are looking for an amazing social networks ambassador ! Someone fun, dynamic and game enthusiast who will lead and take care of soon-to-be players and faithful players across our games'worlds !
Your mission is to innovate and seduce a huge crowd of players to convince them to play and stay along the way, even if there's a rough competition.

You will work in team with our Marketing Artist, User Acquisition Specialist and Player Support Specialist to create the best contents and impacts on our community, communicate toward our fans to inform and reassure our fans through different social networks.

We offer you a chance to join the founding team of passionate game developers who only believe in passion and individual talents. Oh BiBi offers development cycles where every idea matters and where bureaucracy stays behind the door. If working on amazing mobile game experiences sounds like your thing, just drop us an email and share your passion with us !

RESPONSIBILITIES
- Attract and engage the players with smart, dynamic and fun posts.
- Represent Oh BiBi to our community and deliver state-of-the-art service.
- Respond to players in need with helpful suggestions related to our games.
- Use and track every social network for useful datas.
- Provide feedback to game developers in order to improve the game.
- Report to user acquisition specialist in order to improve attraction.
- Manage Customer Support agents (internal and external).
-.

Preferred experience



Profil(s) recherché(s)
REQUIREMENTS
- Experience of 5 years min with social networks management (Facebook, Twitter mostly) and also with YouTube in the Gaming industry.
- Perfectly fluent in English with strong written communication skill.
- Mastering of other languages is a plus (Asian & European languages).
- Strong interpersonal skills and super positive attitude.
- Passion for games & collaborative activities.
Strong internet culture
- Proficiency in Office (Word, Excel).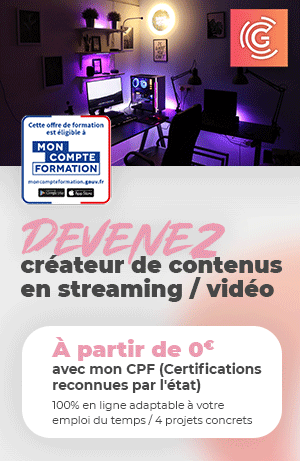 Date de publication initiale : 01/07/2022
---