Game Director H/F
CDI
PARIS, 75000
il y a 72 jours
---
Cette annonce est désactivée, il n'est donc plus possible d'y postuler.
Vue d'ensemble

Description de l'entreprise :

Are You Looking For a Fun Place to Work? Join The Game !

Leader in the development and publishing of games, Gameloft® has established itself as one of the top innovators in its field since 2000. Gameloft creates games for all digital platforms, two of which are featured in the Top 10 iOS Games by All-Time Worldwide Downloads from App Annie. Gameloft operates its own established franchises such as Asphalt®, Dragon Mania Legends, Modern Combat and Dungeon Hunter and also partners with major rights holders including Disney®, LEGO®, Universal, Illumination Entertainment, Hasbro®, Fox Digital Entertainment, Mattel®, Lamborghini® and Ferrari®. Gameloft distributes its games in over 100 countries and employs 4, 600 people worldwide. Every month, 80 million unique users can BE reached by advertisers in Gameloft games with Gameloft Advertising Solutions, a leading B2B offering dedicated to brands and agencies. Gameloft is a Vivendi company.

All trademarks referenced above are owned by their respective trademark owners.

Description du poste :

The Paris Studio is our new Gameloft Paris team dedicated to creating innovative cross-platform high-end games !

We are currently working on a brand new title set in a casual and fun PVP environment.

This project is in line with the vision and quality of work of Speedstorm, a project that is currently in production in our Barcelona Studio (to BE released on PC& Console).

Your mission : Our Paris studio is looking for a Game Director able to guide our studio's creative talent and leverage their full potential with each game we develop.

What you'll do on a daily basis :
- Design and support core gameplay systems (game modes, multiplayer tournaments structures, AI systems...).
- Ensure their balance with the other gameplay mechanics and meta-game features.
- Develop core gameplay systems using clear benchmarking, documentation and analyzing abilities.
- Take active part in the analysis of game metrics in order to detect improvement points and come to actionable conclusions that can BE translated into design solutions.



Profil(s) recherché(s)
Qualifications :

- Strong knowledge ofGame Design basic rules (gameplay, learning curve, directing, difficulty balancing, pacing, reward, accessibility...).
- Strong knowledge of System Design (input/outputs, parameters/rules/content, sub-system vs gameplay, evolving systems, interactions...).
- Able to convey ideas and to clearly formalize complex concepts and ideas.
- Able to illustrate and/or prototype your ideas visually using standard industry production tools (Photoshop, Flash, Sketch-up, 3D Studio Max, Unity, Blitz, etc.).
- Experience working on AAA production.
- Knowledge of cross-platform market and F2P.
- Knowledge of main KPIs of the video game industry.
- Passion, motivation and ability to communicate as part of the project development team.
- Open to listen to feedback from other people and constantly critique your work to achieve the best possible quality.

Extras :
- Good general knowledge (history, literature, science, entertainment).
- Knowledge of programming languages (object-oriented and natural language programming).
- Design / Composition : Able to draw sketches and digitally create images or videos.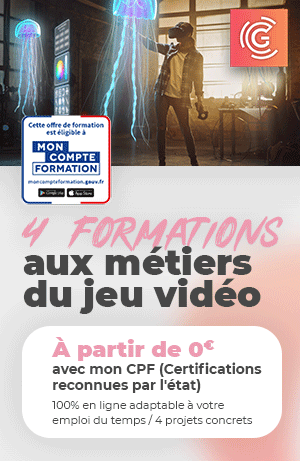 Date de publication initiale : 05/05/2022
---