Game Developer Unity
CDI
France
il y a 378 jours
---
Cette annonce est désactivée, il n'est donc plus possible d'y postuler.
Vue d'ensemble
9Tales is an upcoming card game, players can battle and earn in a fantasy world where 9 different races coexist. Our goal is to develop a blockchain-based play-&-earn Card Game.
Our vision is to become a key gaming company in the metaverse. We believe that the blockchain technology will reshape the way games are played. And we plan on being part of this change.
To sustain our development, we are looking for a Senior Game Developer, with strong knowledge of C# and Unity to join our growing team.
As a game developer, you will be responsible for planning and implementing game functionality, building the game code, identifying bottlenecks, and ensuring the quality of the finished product.
Responsibilities:
Create, debug, maintain and optimize the game's engine, editor and related tools used for the game's development,
Be involved in the process of creating technical design and technical architecture of the game and single features,
Proactive involvement in ensuring top-notch code quality,
Design, implement, maintain and optimize game and engine systems in C#, C++,
Manage and work closely with a team of developers and hold meetings with subcontracting studios to discuss gaming ideas and specifications,
Identify risks and opportunities presented during the development and provide solutions to resolve potentially complex problems.
Profil(s) recherché(s)
About you:
3+ years' experience in Unity mobile app development, experience in large studios is a plus.
Large experience in multiplayer game development and different solutions usage such as Microsoft Azure playfab or Amazon gamelift.
Hands-on experience with Unity3D engine (editor and scripting)
Good knowledge of C# and object programming development
Good knowledge of how a 3D engine / game engine works,
Strong abstraction skills,
Very good interpersonal skills and strong ability to adapt.
Other Skills:
Good organization skills,
Strong time management and communication skills,
Considerable understanding of video games and board video game culture,
Self-motivated and agile.
Informations complémentaires
Benefits:
Join a startup with demonstrated traction and the global ambition to create a category leader;
You will be highly impactful from the beginning. We're looking to hire talented, autonomous people that can bring their expertise to shape the game and company as we grow;
A competitive salary
Work 100% remotely for the upcoming months.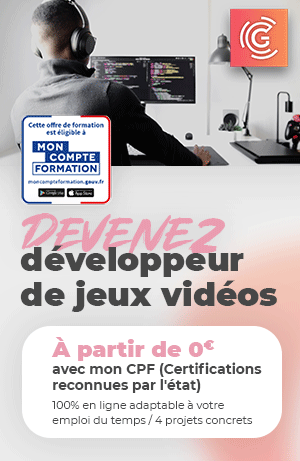 Date de publication initiale : 23/05/2022
---