---
Cette annonce est désactivée, il n'est donc plus possible d'y postuler.
Vue d'ensemble
Hi there!
We are Sunnyside Games, a game development company based in the beautiful city of Lausanne, itself located in the french speaking part of Switzerland. Our studio is dedicated to the creation and development of beautiful games that we can all enjoy on PC, Console and mobile devices. We have released 3 games of our own so far and are currently working on our fourth and yet unannounced title, that's where you come in.
Our team is growing and we are looking to hire an experienced game designer to join us on our upcoming production(s). You will be working in a dynamic, experienced and dedicated game team, where your talent, expertise and flair for what makes a great game, will be put to good use. But more than that we are looking for someone we can trust and enjoy working with. We want you to become part of our core team, eventually becoming our Lead Game Designer.
As the game is yet unannounced, it is difficult to give more information but hereafter are a few key elements and rest assured that we will provide all lot more information during the interviews: the game is set to be system intensive, cozy, with a mix of social, management and exploration features.
Tasks
Generate design documentation to clearly communicate ideas and goals to the team.
Pitch and implement new game ideas and features to the teams.
Prototype new ideas and features before they are implemented in the game.
Work closely with the team and lead the effort to develop some of the game systems in support of the project's goals.
Help fine-tune game balancing, pacing and feeling.
Identify issues and offer solutions related to gameplay.
Collaborate actively with the QA team, from the first internal playtests to the functional and certification tests to ensure the best quality of the game systems.
Profil(s) recherché(s)
You are able to give and receive actionable feedback and are critical of your own work.
Positive attitude, Self-motivated, organized and good interpersonal skills.
Degree in Game Design preferred.
At least one full-dev-cycle game shipped.
You have a strong interest in mathematics, "spreadsheet management" and statistics.
You have experience with system-driven games.
A proven ability to conceptualize, prototype and iterate.
Preferably some experience working within Unity.
You can speak French or English fluently.
Informations complémentaires
We offer
Great work environment.
The opportunity to evolve in the company and make a real impact.
Flexible working hours.
Competitive salary.
Office located right in the middle of the vibrant city center of Lausanne.
Remote work is also possible but will need to be discussed on a case by case basis.
Application - Close on the 5th of January 2020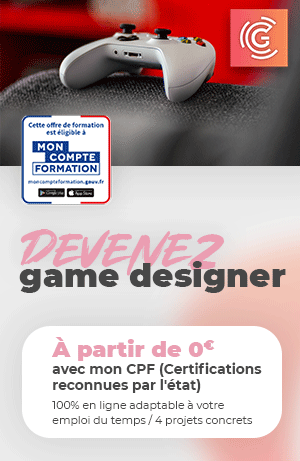 Date de publication initiale : 18/12/2019
---