Game Designer - Green Panda Games M - W - Nb H/F
CDI
PARIS, 75000
il y a 280 jours
---
Cette annonce est désactivée, il n'est donc plus possible d'y postuler.
Vue d'ensemble

Description de l'entreprise :

Green Panda Games is a vibrant and fast-growing mobile gaming start-up, part of the Ubisoft group. We are a leading mobile games publisher with more than 100 million users on iOS and Android playing our games in more than 150 countries !

We primarily create and publish idle games, but also games from diverse categories, ranging from casual to hyper-casual. Our main focus right now are Idle management games. We have a sharp editorial vision, data-driven mindset and undisputed expertise in both user acquisition and ad monetisation strategies. We are looking to further grow our creation and publishing businesses at a rapid pace.

We are composed of young, motivated and passionate individuals in high-performing teams, who share the aim to become the best mobile gaming publisher in the industry. We need your help to achieve this !

Description du poste :

As a Game Designer, you will BE in charge of creating feature concepts and game mechanics. Reporting to the Lead Game Designer, you will BE at the forefront of our production system, liaising with all the different production teams. Your responsibilities will BE the following :
- Collaborate with design and production teams on both games and features creation.
- Participate in designing game UX and UI.
- Formalize and clarify concepts and features into clear documentation.
- Make strategic decisions based on data.
- Communicate your vision between different teams.
- Benchmark the stores to identify new trends and competitors.
- Deconstruct and analyze mobile game mechanic.
- Research new game ideas.
- Create game design documents for prototypes.



Profil(s) recherché(s)
Qualifications :

Qualities we are looking for :
- A hyper-passionate and motivated person.
- Good knowledge of the mobile F2P market insights.
- A first significative experience as a game designer working on mobile titles.
- Monetization/live ops / data analytics work experience is a plus.
- Strong communication skills in English.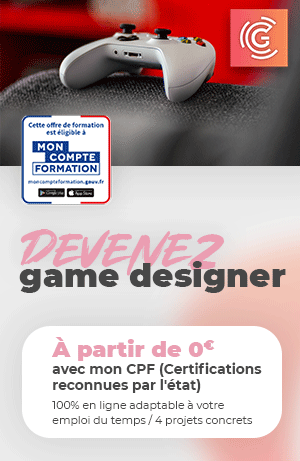 Date de publication initiale : 15/06/2022
---