Full Stack Software Engineer - Ketchapp (F/H/NB)
CDI
Paris
il y a 164 jours
---
Cette annonce est désactivée, il n'est donc plus possible d'y postuler.
Vue d'ensemble
Full Stack Software Engineer - Ketchapp (F/H/NB)
Ubisoft's 21 000 team members, working across more than 40 locations around the world, are boundby a common mission to enrich players' lives with original and memorable gaming experiences. Their dedication and talent has brought to life many acclaimed franchises such as Assassin's Creed, Far Cry, Watch Dogs, Just Dance, Rainbow Six, and many more to come. Ubisoft is an equal opportunity employer that believes diverse backgrounds and perspectives are key to creating worlds where both players and teams can thrive and express themselves. If you are excited about solving gamechanging challenges, cutting edge technologies and pushing the boundaries of entertainment, we invite you to join our journey and help us Create the unknown!
For more than 7 years, via its Ubisoft Mobile entity, Ubisoft has also shaped worlds on smartphones and tablets via its portfolio of mobile games.
At Ubisoft Mobile, you will have a chance to develop your skills and work alongside dedicated team members who are pioneers in their field, throughout the world.
You will be part of a warm and stimulating environment in which you can push back the boundaries of both the imagination and technology to create worlds that will inspire our players.
Fully integrated in the Ubisoft environment and with more than 200 games in its catalogue, Ketchapp is one of the leading publisher of hyper-casual mobile games, and the name behind such hits as 2048, Knife Hit, Stack, Origame, Rider, among others.
Job Description
In the technical team of Ketchapp, a Ubisoft Mobile studio, you will help to build a strong online platform by connecting to various tools of our Tech partners. It will be used by the Production, publishing and User Acquisition & Monetization teams to leverage value and accelerate Ketchapp's development.
You will work closely with all these teams to evaluate their needs and validate technical specifications to expand our front end and back end architecture
You will create and maintain high-traffic APIs for Ketchapp's mobile games (200+ games)
You will develop and maintain back offices allowing teams to:
- Visualize KPIs to make business decisions
- Automate interactions with our partners
You will automate the download of very large volumes of data
You will automate operational activities and tasks
You will maintain health of cloud-based production environments through monitoring and typical daily administration duties
The tools will be various and will allow the whole team to take advantage of the technology to bring more value and save a lot of time to work on more creative task. These tools will bring high value to the marketing team and will have a strong impact on the Ketchapp studio performances. We plan to automate many routines and build a wide range of tools which could lead to a powerful UA & Monetization platform and App publishing dashboard.
Desired skills and Experience:
Passion for programming
Experience in Big Data
You have a keen interest in WebAssembly technologies especially Blazor
Experience interacting with any ad or social network API will be much appreciated: Google, Facebook APIs
Practical experience in designing and developing scalable web applications / web API applications
Knowledge of DevOps would be an advantage, especially in Azure Dev Ops context
You have a keen interest in current technologies and ideally already have experience in backend development, cloud computing (particularly Azure)
Have previously taken complete ownership of a feature or project
Desire to learn and grow
Open to new approaches and sharing idea
Profil(s) recherché(s)
Qualifications
Required skills and Experience:
Experience building and consuming REST API
Understand and use task management and understand how sprints or other agile development processes work
Autonomous and pro active
Teamwork skills with a problem-solving attitude
Scrum/Agile comes naturally to you
Code cleaning
Informations complémentaires
Additional Information
By joining us, you will grow in a challenging and caring environment. You will benefit from all the advantages of a flexible team and a leader of the gaming industry:
High degree of autonomy and creativity;
An international context with colleagues who are enthusiastic and engaged;
A flat hierarchy and open communication. · All the latest online gaming news via our Stories magazine;
A stack with the latest technologies and cutting-edge hardware;
Ubi Path: come for a career, not just a job You will find all the studio's other benefits here: Ubisoft Benefits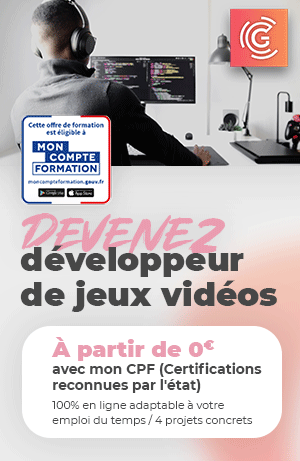 Date de publication initiale : 19/04/2022
---