Concept Artist H/F
CDI
ANNECY, 74600
il y a 54 jours
---
Cette annonce est désactivée, il n'est donc plus possible d'y postuler.
Vue d'ensemble

Description de l'entreprise :

Ubisoft's 19000 team members, working across more than 40 locations around the world, are bound by a common mission to enrich players' lives with original and memorable gaming experiences. Their dedication and talent have brought to life many acclaimed franchises such as Assassin's Creed, Far Cry, Watch Dogs, Just Dance, Rainbow Six, and many more to come.

Ubisoft Annecy

Founded in 1996, Ubisoft Annecy has developed many sagas, especially on Splinter Cell, Assassin's Creed®, while focusing on multiplayer online and social aspects, and also on concrete game mandates such as Tom Clancy's : The Division 2® and Ghost Recon Wildlands. We are now proud to have developed our own IP's, Steep and Riders Republic !

Located in one of the most dynamic regions of France, our Ubisoft studio is settled between lake and mountains, in the middle of Annecy, also known as the Venice of the Alps, 30 minutes away from Geneva International Airport. Having a studio with perpetual growth, we are focusing on our team members' commitment and team work. Our ambition relies on innovation and excellence with an ultimate purpose : our players' satisfaction !

Ubisoft is an equal opportunity employer that believes diverse backgrounds and perspectives are key to creating worlds where both players and teams can thrive and express themselves. If you are excited about solving game changing challenges, cutting edge technologies and pushing the boundaries of entertainment, we invite you to join our journey and help us create the unknown.

Description du poste :

As a Concept Artist at Ubisoft Annecy, you will BE working on an innovative game concept for an unannounced game.
Understand and follow the Art Direction of the game to come up with memorable concepts;
Create sketches to help the Artistic Director show the artistic intentions of the project;
Make all necessary changes to maintain the consistency of the AD;
Communicate effectively with all artistic and marketing teams who will use your work as references;
-.
Considerate the technical constraints and limitations to suggest realistic concepts.



Profil(s) recherché(s)
Qualifications :

What you bring to the team

You have already worked for severalAA or AAA video game production or on cinematic productions as aConcept Artist.

You have :
- Drawing skills / 2D concepts (3D is a plus).
- Creativity.
- Proficiency in Adobe® Photoshop®.
- Architectural and anatomical knowledge.
- Knowledge of image composition.
- Strong ability to interpret other people's ideas.
- Good communication skills.
- Ability to provide and accept feedback and adapt to change.
- Passion and enthusiasm for videogames.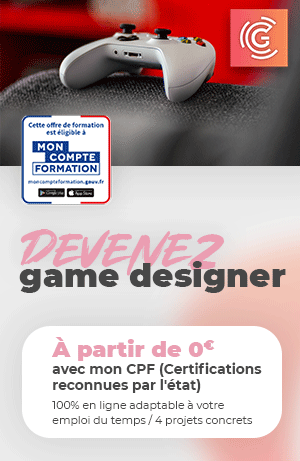 Date de publication initiale : 22/06/2022
---