Unity 3D Game developer (M/F)
CDI
Annecy - Haute-Savoie, France
il y a 767 jours
---
Cette annonce est désactivée, il n'est donc plus possible d'y postuler.
Vue d'ensemble
Job Description


Ubisoft Annecy is looking for a Unity Game developer (M/F), with experience and expertise in Android/ iOS platforms with development experience in Unity Engine.
Come to join a team in charge of developing AAA games and be a part of the next Ubisoft blockbuster.
- Collaborate with the development team to code any game system including Gameplay, audio, framework, rendering, and networking.
- Implement game functionality as per communicated design
- Design, build, and maintain efficient, reusable, and reliable code
- Well versed with rapid prototyping & agile development methodology in cooperation with marketing and product design teams.
- Determine and fix the gameplay bugs detected by the production and quality control teams.
- Work in small, focused, engineering teams to create and develop new Mobile apps or games.
- Porting Games for different mobile and Smart TV platforms.
- Support the Lead Programmer in any ad hoc tasks and duties.
- Ability to work independently and meet tight deadlines.
- Excellent verbal and written communication skills.
- Open for feedback and enjoys working in a fast paced, constantly iterating environment.
Profil(s) recherché(s)
Qualifications


- 3-4 years of experience as a mobile/Unity game programmer.
- Should have shipped at least 2 commercial titles on iOS, Android platforms. Experience on tvOS platforms will be plus.
- Excellent knowledge of Unity, including experience with scripting, textures, animation, GUI styles and user session management.
- Should have experience in Native plugin development.
- Should have experience of working with third party plugins (eg: Flurry, Admob, Vungle, Tapjoy, Game Center, etc...).
- Should have experience of working on cross platform game engine (Android/iOS/tvOS).
- Knowledge of object oriented development in C++.
- Preferably B.E Comp, B.Sc., B.Cs. or M.S. in computer science or equivalent.
- Should possess excellent debugging skills.
- Should have experience porting title for different mobile platforms.
- Familiar with SWIFT and Objective-C.
- Excellent commend in English (English manager), French nice to have
Informations complémentaires
Additional Information


As an applicant, you must hold a European nationality. Visa assistance won't be provided for this position.
Position available as soon as possible in Annecy!
Please submit an English written resume and all personal/professional work or portfolio website.
Ubisoft is committed to creating an inclusive work environment that reflects the diversity of our player community. Qualified applicants will receive consideration for employment without regard to their race, ethnicity, religion, gender, sexual orientation, age or disability status.
All information will be treated as confidential in accordance with the Employment Equity Act.
Integrating the Ubisoft French studios also means:
- Join passionate and highly technical teams, all driven by the desire to design and develop innovative games and stand out for their quality
- Collaborate with teams recognized for their experience on renowned franchises
- Develop expertise by participating in in-house sharing events (talks, conferences, trade shows) and benefiting from tailor-made training programs
- Evolve in a leading French videogame company represented in 30 different countries, with opportunities for international development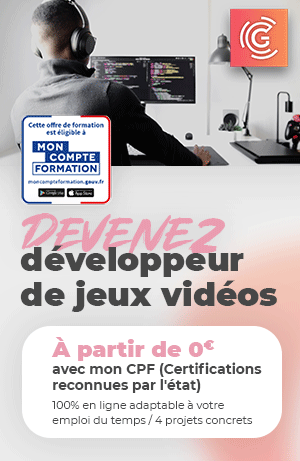 Date de publication initiale : 15/10/2019
---