---
Cette annonce est désactivée, il n'est donc plus possible d'y postuler.
Vue d'ensemble
Darewise Entertainment is an upcoming independent games studio with one goal: to revolutionize online games. Based in Paris and led by the creative vision of Viktor Antonov (Valve, Bethesda) and Randy Smith (Looking Glass, EA), we combine international experience and disruptive creativity to deliver the games of tomorrow. We focus on building large scale virtual worlds, where players write their own stories and take fate into their own hands. We create the impossible.
If you dream of pushing the boundaries of online games, then join our international team!
We are looking for a talented and experienced Producer who, together with our external partner Studios, will leave a permanent mark in the game industry. If you want to make a difference and work on products that matter to players, you belong with us. Our entrepreneurial spirit will allow you to express and grow together with us, in the mission to serve our players with the best possible games.

As Darewise Senior Producer you will coordinate the productions, inspiring the team and driving the development across the finish line.

Darewise is committed to building a culturally diverse team and strongly encourages applications from female and minority candidates.
Profil(s) recherché(s)
Ideal candidates will have many of these qualifications :
- A senior candidate with 5+ years of working experience that allows you to make sense of the intricacies of game development with AAA teams and large scale productions.
- At least 2 projects shipped in a production leadership position.
- In-depth knowledge of project management and game development methodologies.
- A great team player, ready to share his knowledge and learn from others.
- You excel at organizing yourself and others working in a team, inspiring them through your charisma, working ethic, and analytical abilities.
- A pro when it comes to working in a fast-paced environment, meeting deadlines and priorities on multiple simultaneous projects.
- Goal oriented and an achiever by heart. You are able to maintain focus on the strategic direction, transforming it into concrete tactical execution.
Responsibilities:
- Oversee multiple production projects (internal, entirely remote or distributed), coordinating them through the entire development lifecycle.
- Ensure the projects are delivered within the agreed constraints of time, scope, cost, and quality.
- Prioritize deliverables and features with the Development Team and the project stakeholders to create a top quality game within the project mandate and quality requirements.
- Work with the Development Team to ensure the best project management and development solutions are in place.
- Grow a team of producers to support the pipeline of production of the company
- Contribute to the strategic plan; create the production part of the plan, which syncs with Creative, Business Development, and Finance.
- Build a network of development studios
Informations complémentaires
Benefits:
- Competitive salary (based on experience) with stock options.
- Unlimited paid holiday and flexible working hours.
- Relocation package including EU working visa assistance if necessary.
- Benefits package including private health insurance, pension and public transport.
- Unlimited budget for your workspace hardware, software and tools.
- Monthly free games to be up to date with all the latest release.
- Fully stocked fridges and weekly lunches.
- Working within a small, highly motivated team who are passionate to succeed.
- Living in Paris, one of the most iconic and exciting cities in the world.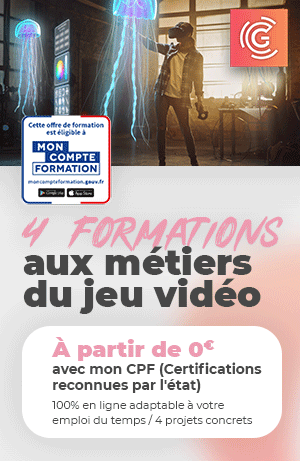 Date de publication initiale : 03/05/2018
---