Senior Game Artist
CDI
Paris - Île-de-France, France
il y a 828 jours
---
Cette annonce est désactivée, il n'est donc plus possible d'y postuler.
Vue d'ensemble
Job Description
Game Lab is a Gameloft Paris team dedicated to creating innovative gameplay and concept work. It has several tasks: devising and fleshing out concept games, testing them using iterative prototyping, developing ideation tools and methods, infusing all Gameloft development teams with creativity, and helping those teams to boost the quality of their games.
As Game Lab's Senior Game Artist , you'll be tasked with handling a broad range of projects to lay the groundwork for our studios' production teams around the world and for our external partners.
Your mission: Boost innovation at Gameloft and the creativity of the teams by producing innovative gameplay and art direction, in the form of prototypes and full games that are in keeping with Gameloft's strategy.
About you: You are passionate about mobile and have built your career around the platform. You excel at prototyping and rapid iteration. You are versatile and independent and can handle the artistic vision of a project on your own. You have a keen awareness of mobile game-design and UX issues, and have a strong sense of what is being made on the platform. You're detail-oriented and know how to put in the little touches that will make all the difference in terms of user experience. If all this describes you, you're the perfect fit for Game Lab!
Responsibilities:
· Your main responsibility will be producing 2D/3D prototypes used for assessing assumptions about gameplay. In collaboration with other Game Lab team members, you'll produce and integrate the visuals for rapidly iterated prototypes to be provided to HQ management, external partners, and production teams around the world.
· You may sometimes, based on Game Lab's tasks at the time, be asked to work on longer-term game projects, in order to check entire game concepts or explore emerging game platforms. You'll therefore take part in all phases of the game conception, from preproduction through release, and on into live operations.
· You'll also work closely with Game Lab's Art Director to ensure the division's projects have high-quality visuals.
Profil(s) recherché(s)
Qualifications
· You have a passion for mobile games and know the top-grossing titles like the back of your hand. For you, a job in mobile is your career of choice.
· You have 4 years of experience or more on mobile in an equivalent position. You have worked on projects in a variety of genres aimed at different audiences.
· You're just as comfortable creating 2D assets as you are creating 3D ones.
· You have completely mastered Unity. You've already taken part in a number of projects that make use of this technology and are able to very quickly get extremely polished results.
· You're versatile and can adapt to a fast-paced working environment where speed and innovation are key. You're comfortable with a wide range of art direction types and worlds.
· You express yourself clearly in English and can hold a (spoken or written) technical conversation in that language.
· Asset : You've mastered Cocos2d and have already released at least one game that uses that engine.
· Asset : You have experience with 2D/3D animation.
· Asset : You've already been part of a prototyping cell.
Informations complémentaires
Additional Information
Game Lab Offers You:
· The opportunity to join a dynamic new team. The chance to be there from the beginning of the journey!
· Lots of varied tasks in a lively setting: You'll never get bored at Game Lab!
· The chance to explore new ways: innovation is key at the Game Lab. Help us discover what tomorrow will be made of!
· An exceptional working environment right in the heart of Paris, halfway between Gare Saint-Lazare and the Palais Garnier.
· Other benefits at Gameloft: self-serve fresh fruit and warm beverages, lunch vouchers, competitive mutual insurance coverage, regular breakfast.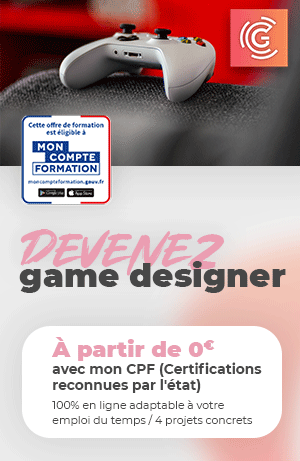 Date de publication initiale : 14/08/2019
---