Senior community manager (english-speaking) M/F
CDI
Levallois-Perret - Hauts-de-Seine, France
il y a 963 jours
---
Cette annonce est désactivée, il n'est donc plus possible d'y postuler.
Vue d'ensemble
Millenium is the most popular and visited esports and hardcore gamers web media in France since 2002. Its core activities include, esports coverage, video games tests, news, guides, interviews and investigations. Millenium is part of Webedia, a French global digital entertainment company.
Millenium is part of the Webedia group. With more than 50 sites worldwide under their wing (AlloCiné, Purepeople, Puretrend, Jeuxvideo.com, Gamestar, 3DJuegos, 750g, Tudo Gostoso, EasyVoyage…), and some of the most influential trendsetters on social media (Cyrpien, Squeezie, Norman, Natoo, Sananas, El Rubius, Kéfera…), the group attracts more than 177 million unique visitors each month on all devices. Webedia guides its clients through the process of defining and achieving their digital marketing strategies, offering solutions to their advertising, content marketing and e-commerce needs.

Missions
Reporting to the English Editor-in-Chief you will have the following missions:
- Create Millenium's English language social media assets (Facebook, Twitter, Instagram, discord) ;
- Set up a growth strategy ;
- Create and curate engaging social media contents ;
- Ensure the most qualitative and interactive daily user experience with our followers and fans ;
- Interact with English speakers' influencers ;
- Animate face cam videos and lives for our social media ;
- Monitor and report the results ;
- Cover Online/On-site main esports events.
Profil(s) recherché(s)
You are a social media expert and a gaming/esports FAN! Passion is THE key word to us, but of course, some other things are required :).
- Fluent English speaker/writer/reader. French is optional but welcome ;
- Strong social media skills, tweetdeck is your favorite tool by far! ;
- Proven experience in social media on Facebook, Twitter, blogs, Discord, Twitch, Instagram, Reddit and forums ;
- Knowledge about who and what to follow, the players, the clubs, the competitions, the influencers, the game editors, the specialized press.. ;
- Insatiable curiosity for Twitter, Reddit, Facebook, Instagram, Twitch, YouTube, games, esports and streaming ;
- Organized, autonomous, creative and reliable you are ;
- Results driven, enthusiastic & positive, social personality and a true team-player ;
- 2y+ experience.
Skills :
- Photoshop ;
- Tweetdeck ;
- Premiere Pro / Vegas ;
- Business manager (FB) ;
- Discord admin (optional).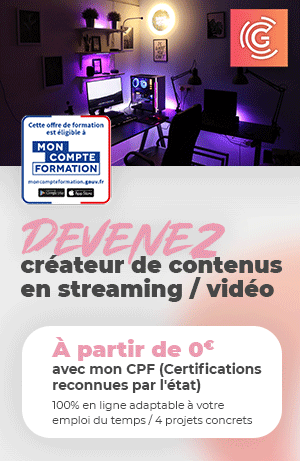 Date de publication initiale : 18/12/2018
---