Senior Character Artist
CDI
Bordeaux - Gironde, France
il y a 736 jours
---
Cette annonce est désactivée, il n'est donc plus possible d'y postuler.
Vue d'ensemble
Company Description
Created in September 2017, Ubisoft Bordeaux is the newest of the French Ubisoft studios, working on iconic brands such as Just Dance, Ghost Recon, Beyond Good & Evil and the Raving Rabbids.
About 15 Ubisoft experts from all over the globe, created the core of the studio. With their experience, energy and passion, we are able to grow into a world class development team.
Announced as AAA studio, Ubisoft Bordeaux is growing rapidly and already counts more than 200 talents from more than 15 different nationalities.
With the ocean less than an hour away, the vineyards at the gates of Bordeaux, and located in one of the most beautiful regions of France, Ubisoft Bordeaux is the ideal place to reconcile a demanding and creative work environment on leading Ubisoft brands along with an exceptional lifestyle.
If you like working in a stimulating, international and friendly environment, come join us and become a pioneer of this new studio!
Job Description
Develop and support to the highest quality: characters, facial, weapon, and specialized custom rigs in Maya and MotionBuilder.
Work closely with the animation team to define, create, and maintain animation pipelines.
Create custom tools and scripts to increase the productivity and efficiency for the animation team.
Provide technical support for the tools, engine and animation teams.
Communicate technical constraints and their rationales plus any other knowledge-sharing required.
Integration of the character, cinematic, and other animation related assets into the game engine.
Research and share knowledge of existing engines and animation packages within the industry.
Interact and collaborate with different teams (Art, Design, Code) to fulfill tasks according to production schedule and development needs.
Be proactive in identifying issues and creating efficient solutions.
Create and update state machines and blend trees
Interact with the other departments to better know the game engine possibilities in order to get the best animations possible while respecting the technical constraints
Profil(s) recherché(s)
Qualifications
5-8 years professional experience in a similar position, previous experience in programming a major plus.
Experience in AAA games
Excellent technical knowledge of the main 3D softwares ? MotionBuilder a plus.
Excellent knowledge of Human Anatomy
Good ability to teach and mentor.
Ability to write technical documentation.
Good capacity to communicate verbally as well as written.
Be adaptable, approachable and positive in the workplace.
Mathematical and logical mindset
Familiarity with geometric and numerical algorithms
Excellent knowledge of Python
Excellent knowledge of C#
Knowledge of C++ (be able to read and understand engine source code)
A passion for Videogame development.
Informations complémentaires
Additional Information
We are looking for innovative and original minds that are challenging, and who want to build the future of the video game industry.
Integrating the Ubisoft French studios also means:
Join passionate and highly technical teams, all driven by the desire to design and develop innovative games and stand out for their quality
Collaborate with teams recognized for their experience on renowned franchises
Develop expertise by participating in in-house sharing events (talks, conferences, trade shows) and benefiting from tailor-made training programs
Evolve in a leading French videogame company represented in 30 different countries, with opportunities for international development.
Ubisoft is committed to creating an inclusive work environment that reflects the diversity of our player community. Qualified applicants will receive consideration for employment without regard to their race, ethnicity, religion, gender, sexual orientation, age or disability status.
All information will be treated as confidential in accordance with the Employment Equity Act.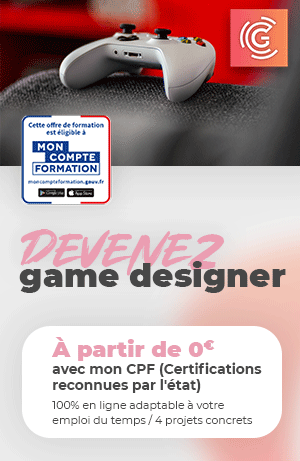 Date de publication initiale : 24/10/2019
---