---
Cette annonce est désactivée, il n'est donc plus possible d'y postuler.
Vue d'ensemble
Darewise Entertainment is an upcoming independent games studio with one goal: to revolutionize online games. Based in Paris and led by the creative vision of Viktor Antonov (Valve, Bethesda) and Randy Smith (Looking Glass, EA), we combine international experience and disruptive creativity to deliver the games of tomorrow. We focus on building large scale virtual worlds, where players write their own stories and take fate into their own hands. We create the impossible.
If you dream of pushing the boundaries of online games, then join our international team!
We are looking for a versatile and talented Narrative Designer! If you want to make a difference and work on products that matter to players, you belong with us. Our entrepreneurial spirit will allow you to express and grow together with us, in the mission to serve our players with the best possible games.

As a Darewise Narrative Designer, you will be the primary content creator and vision holder fleshing out a new, unique IP: an exotic alien world rich with interest, intrigue, history, characters, races, creatures, cultures, adventures, and current events. This IP will take shape in various formats: a video game, a series of comic books, and more.

Darewise is committed to building a culturally diverse team and strongly encourages applications from female and minority candidates.
Profil(s) recherché(s)
Qualifications :
- 4+ years as a fiction content creator, writer, and world builder in multiple media, having shipped at least 2 works.
- Experience working on game development teams or otherwise writing for interactive and non-linear narrative.
- A vivid imagination and a willingness to go beyond the expected to discover new, relevant, evocative, and resonant stories.
- Superb communication skills, especially verbal and written. Excellent documentation of IP, world, and fiction ideas.
- An ability to pitch what makes a fiction great and make a team excited to develop it.
- Excitement to collaborate with other creative individuals, fielding their input and developing it into the work.
- Willingness to brainstorm and compromise to find an IP with the perfect marriage between its videogame expression and expressions in other media.
- Positive, collaborative and professional attitude while working under multiple deadlines and getting things done well and on time.
- Fluent in English
- Based in or willing to relocate to Paris, France.
Responsibilities:
- Provide creative leadership and be the primary content creator for an IP development process involving creating new worlds, characters, stories, and fiction.
- Hold the vision of the new IP and communicate it effectively to a multi-disciplinary game development team of artists, designers, programmers, audio professionals, writers, and more so it informs their work accurately.
- Expand upon, flesh out, and fill in the details of this IP's skeletal world and story outline. Add interest, connect the dots, give alignment around themes and meaning, build structure, develop characters and scenarios, etc..
- Provide excellent documentation which both explains the details of this world and also exciting, evocative high level pitches to generate interest.
- Perform hands-on content creation for the video game production: character designs and interactive dialog, location descriptions, quest structures, and similar, by communicating closely with content creators or working directly in the tools.
- Collaborate with a Producer and Game Director who lead the overall game development project, keeping it in creative alignment, and on schedule and budget.
Informations complémentaires
Benefits:
- Competitive salary (based on experience) with stock options.
- Unlimited paid holiday and flexible working hours.
- Relocation package including EU working visa assistance if necessary.
- Benefits package including private health insurance, pension and public transport.
- Unlimited budget for your workspace hardware, software and tools.
- Monthly free games to be up to date with all the latest release.
- Fully stocked fridges and weekly lunches.
- Working within a small, highly motivated team who are passionate to succeed.
- Living in Paris, one of the most iconic and exciting cities in the world.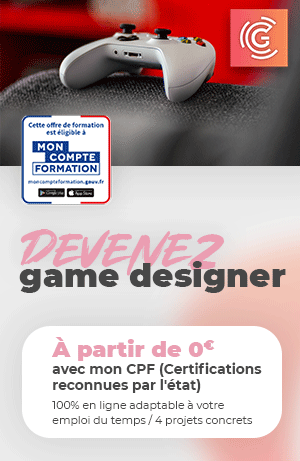 Date de publication initiale : 03/05/2018
---