Marketing Project Manager pour Gameloft
CDI
Paris - Île-de-France, France
il y a 1215 jours
---
Cette annonce est désactivée, il n'est donc plus possible d'y postuler.
Vue d'ensemble
Job Description :
As part of the Global Marketing team, you will be in charge of managing marketing projects (digital and social programs, game launch and promotional activations, events) from ideation to execution. Firstly in charge of (or participating in) proposing the main creative concepts and activation strategies serving the objectives of the teams you work with (Brand Managers, Product Marketing Managers, Social Media Managers, Sales Managers, etc.), you will then lead the greenlit projects until conclusion. Coordinating our different local markets and subsidiaries for multi-territory implementation, you will be responsible for delivering every project on time and within the included budget and scope.
Your missions :
- Participate in the development of a wide range of creative concepts and activations (digital, social, experiential…) serving various game genres, brands, targets, and marketing or business objectives (awareness, engagement, conversion)
- Put together documents (pitches, plans, post-mortems) that are strategically grounded, of superior textual and visual quality, and that turn complex business situations into easy to understand experiences
- Coordinate and manage relationships with all parties involved in the projects: Internal teams and resources: brand managers, game dev teams, web dev teams, graphic designers, local sales & marketing teams.;Third-party providers: event organizers, marketing agencies, etc; And partners: brands, phone manufacturers & carriers, licensors, other Vivendi companies, etc.
- Manage projects and partnerships according to the P&L and profitability objectives
- Ensure the availability of resources and handle their allocation
- Perform risk management to minimize project risk
- Develop a detailed project plan to track progress and maintain a comprehensive project documentation
- Report and escalate to management as needed
- Measure project performance using appropriate systems, tools and techniques
Profil(s) recherché(s)
Qualifications :
- Conceptual and creative thinker who is strategically-centered
- Ability to contribute with ideas and bring them to life
- Pragmatic, with solid organizational skills including attention to detail and multi-tasking
- True passion for video games, both from an end-user and marketer perspective
- Excellent background in entertainment and pop culture (music, films, design, style, street culture, emerging trends, etc.)
- Excellent client/partner relationships and internal communication skills
- Perfectly fluent in English – all deliverables expected in English, verbal communication skills allowing you to operate in an international environment on a daily basis
- Strong ability to analyze and synthesize
- Background in business skills, management, budgeting and analysis
- Portfolio of ground-breaking and inspiring marketing realizations
- Minimum 4 years relevant experience, ideally in an advertising agency
Informations complémentaires
Why join Gameloft?
You want to be part of an exceptional experience, within a company that is constantly growing.
You want to work with talented people who are industry pioneers.
You want to join a global company and meet great people around the world from all walks of life.
Or, you are just looking for a fun place to work!
What Gameloft Paris can offer you even more?
Health insurance coverage
Vacation and personal days off
Meal and transportation allowances
Fresh fruits and hot drinks
Location in the heart of Paris
Casual working atmosphere
You won't be blamed for playing our games!
Cette offre concerne l'entreprise Gameloft. En cliquant sur le bouton "postuler", vous serez redirigé vers la plateforme de recrutement du recruteur, et pourrez candidater directement par le biais de sa propre interface dédiée.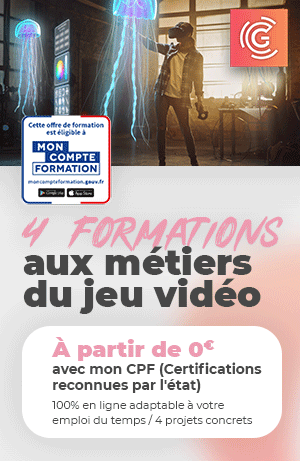 Date de publication initiale : 09/07/2018
---
Ces annonces peuvent vous intéresser !