Junior Unity3D Developper
indépendant
Paris - Île-de-France, France
il y a 799 jours
---
Cette annonce est désactivée, il n'est donc plus possible d'y postuler.
Vue d'ensemble
Description du poste
Mainbot is looking for a junior freelance Unity3D developer, to reinforce the current game development team and take responsibility for porting the WinkyApp game to iOS and ensure the corresponding builds and validations, among other things. This mission will last two to three months and will be executed at Mainbot (64, rue du dessous des berges, 75013 Paris - France). You will be working hand-in-hand with, and under the responsibility of the lead game developer.

Job Responsibilities :
Propose technical solutions to implement functional specification
Build upon selected prototypes, providing tools to streamline content editing and improve scalability
Implement the communication protocol between the games and Winky on the iOS platform
Integrate third-party technologies as necessary
Develop, release and maintain stable software, provide a stable build every week
Optimize performance
Keep the technical documentation up-to-date
Ensure compliance with the application distribution platforms rules and guidelines
Profil(s) recherché(s)
Profil du candidat
Problem solving/analysis, ability to convert functional specification and mockups to technical specifications ;
Solid theoretical and practical software development skills, proficiency with C/C++ and C# languages ;
Knowledge of Unity3D capabilities, limitations, and best practices ;
Fluency with the use of version control systems, Git in particular ;
Interest in mobile app development and the specific challenges related to these platforms ;
Rigor, attention to detail, engagement for reliability ;
Ability to deliver quickly and improve upon existing features in an Agile sprint-based development cycle ;
Attention to detail, coupled with a willingness to share knowledge with the rest of the team.
Informations complémentaires
Informations supplémentaires
A first experience in a professional or open source development team is appreciated
Mandatory prior experience with Unity3D as a game programmer for iOS platforms
Autonomous, proactive, rigorous and organized mindset
Interest for robotics, videogames and education
Fluent French required
Reasonable fluency in English (read, written, and spoken)
Technical Stack :
Unity3D
C# scripting
Git
Bluetooth (classic and LE) communications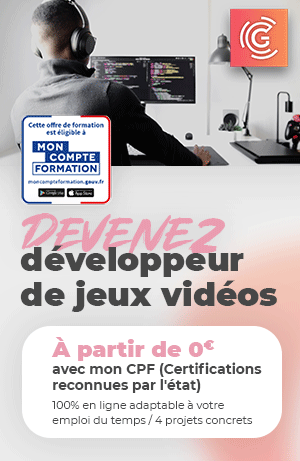 Date de publication initiale : 06/09/2019
---