Game Data Analyst
CDI
Paris - Île-de-France, France
il y a 721 jours
---
Cette annonce est désactivée, il n'est donc plus possible d'y postuler.
Vue d'ensemble
Job Description
Gameloft Paris is currently hiring a Game Data Analyst to complete its Ads team.
Under supervision of the Monetization Director, the candidate will have to collaborate with both monetization management and the game stakeholders to analyze the behavior of our players and suggest monetization or retention improvements.
The candidate will work with other Data Analysts and Data Scientist within the department.
This is an engaging and challenging role that requires strong statistical knowledge as well as interest in gaming and game design within the emerging free-to-play business model.
Analyze the existing systems in the game balance and looking for improvements based on data.
Analyze player behavior, evaluate game performance and report suggestions accordingly.
Analyze the impact of Ads in our games, suggest improvements and communicate these to key stakeholders
What the typical very first missions with us could be :
In one of our games, players do not use video placements allowing them to receive currencies for free. Can you investigate and tell us why this video placements is so unpopular in this game in particular ??
What a typical mission looks like :
?We just released a new game, and we realized that its average revenue per user for IAP + Ads revenue is below its comparable. Can you propose us a plan to increase this KPI over the coming 6 months ??
Profil(s) recherché(s)
Qualifications
Job requirements:
Master in Data Science or related quantitative field
3+ years of experience in a similar position
Strong analytical thinking, able to break problems down to their key variables and identify the relations between them.
Well- developed econometrics skills, able to model problems into quantitative systems and draw qualitative conclusions out of quantitative data.
Statistics knowledge, identifying specific weaknesses and strengths in its economy design.
Passion for games!
Ability to communicate data clearly to key stakeholders
Good knowledge of SQL (Ideally) Or Python, and strong proficiency in Excel
Pluses:
Previous experience in econometrics / data mining,
Informations complémentaires
Additional Information
Why Join the World of Gameloft?
- Because you want to take part in the rise of a dynamic, stimulating, and captivating sector!
- Because you want to be part of an exceptional experience, within a company that is constantly growing!
- Because you want to work within a team made up of people motivated by, and passionate about, their field!
- Because you want to work with talented people who are industry pioneers!
- Because you love the idea of expanding your horizons within a cosmopolitan corporate culture and sharing your know-how with colleagues at the other end of the Earth!
- Because you want to work with renowned partners and clients such as Apple, Google, Nintendo, Disney, Marvel, and many others!
- Because you want to push technology to its limits ? to succeed at creating console-quality games for mobile phones!
- Because you're in search of great working conditions and benefits, all within a modern, friendly space!
- Or just because you're looking for a great place to work!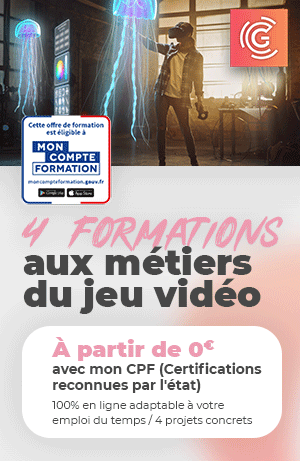 Date de publication initiale : 29/10/2019
---