Economic Game Designer - Owlient (M/F)
CDI
Montreuil - Île-de-France, France
il y a 743 jours
---
Cette annonce est désactivée, il n'est donc plus possible d'y postuler.
Vue d'ensemble
Job Description


Integrated in the 8-person Game Design team and reporting to the project's Lead Game Designer, you will work mainly on the Live part of the studio's Mobile AAA project: Tom Clancy's Elite Squad.
As an Economic Game Designer, you will be responsible for designing and managing all systems that encourage players to invest in our game in order to enhance their experience.
For this purpose, you will be tasked with the following:
Designing, prototyping and justifying economic systems to incite players to invest in the in-game economy;
Recommending rewards and monetisation game features to create an economic system that matches players' needs;
Contributing to the design of game features/systems that re-engage players;
Collaborating with Game Designers on new game features to maximize short and long-term player satisfaction, and provide monetization possibilities;
Managing the economy and pricing of in-game purchases: finding the right balance between free content and virtual currency in the game economy;
Balancing player satisfaction with opportunities for revenue from virtual money and in-game purchases;
Driving the optimization of KPIs, new monetization initiatives and player rewards.
Profil(s) recherché(s)
Qualifications


Looking to join a team that defines itself as "serious about fun"? Think you match the following criteria? Then please apply now!
You benefit from an initial solid experience in Game Design, preferably in a mobile, free-to-play environment;
Excel is your preferred IT tool (almost);
KPIs and Analytics are you best friends (almost);
Your proficiency in Unity goes without saying;
You have a keen interest in the video games industry and mobile gaming;
Your interpersonal skills make it easy for you to communicate with your diverse contacts (programmers, artists, BI people, etc.);
By placing yourself in the users' shoes, you understand their needs and what it takes to engage them;
You have an excellent command of English and are able to thrive in an English-speaking environment.
Informations complémentaires
Permanent position to be filled as soon as possible !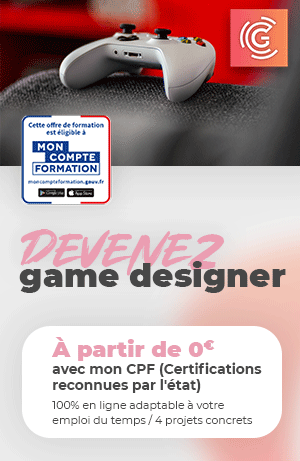 Date de publication initiale : 09/11/2019
---