---
Cette annonce est désactivée, il n'est donc plus possible d'y postuler.
Vue d'ensemble
You can't cheer for an esports team with an ugly logo. You spend as much time designing your character as reaching level 15 on an MMORPG. You started listening to K-Pop because of the KDA LoL video's art direction... and you genuinely think esports is the sports of the digital generation—so you can't understand why more brands haven't jumped in yet.

Hurrah is a Paris-based creative advertising agency focused on bringing mainstream brands into esports, and we're looking for an art director. If esports is your dream gig, but a lack of relevant roles drove you into color-correction for diapers or mustard instead, you're the player we're looking for.
YOUR MISSION:
Building creative concepts in team or in soloQ, from briefs to production.
Creating visuals assets for different purposes, platforms and companies (mostly digital, some print). These will include photo montages, key visuals, social media creative, logotypes, branding, etc.
Defining or building visual identities
Joining creative briefs and brainstorms for upcoming or legacy projects
Helping define esports' visual identity of tomorrow!
Profil(s) recherché(s)
YOUR PROFILE:
To embrace your role as an art director, you need a few branches on your professional tree:
- You speak English fluently (it's pretty much the agency's primary language)
- You can handle Adobe Creative suite: Photoshop, Illustrator, Indesign and at least one for video creation (Premiere Pro, Final Cut, After Effects).
- Knowledge of motion design is a real plus!
- You have a sense of communications challenges
- You understand and have a passion for esports and/or gaming (because seriously… that's what we do)
- Your general knowledge of creation and art direction is updated and regularly fed
- You're curious, motivated and ready to match your passions
See yourself in this magic mirror? Then don't wait; the game's about to start.
Informations complémentaires
MORE DETAILS:
Salary: Experience- and skills-based
Type of job: Freelance or CDD at outset, CDI if we <3 each other
Location: Paris 19e (Belleville)
Start date: What works for you?
Send your English resume, social links and portfolio/book/website (subject: Hurrah for Art Directors! — Your Name Here). Include a quick email about why we should pick you. (None of that "To Whom It May Concern" stuff.)
GL, HF.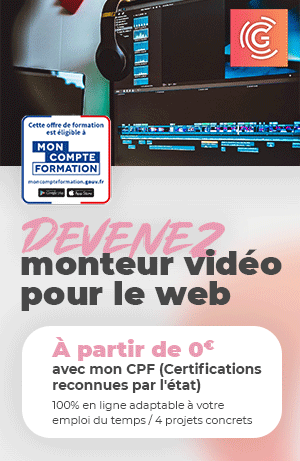 Date de publication initiale : 01/05/2019
---